Lions, tigers and bears - Oh my!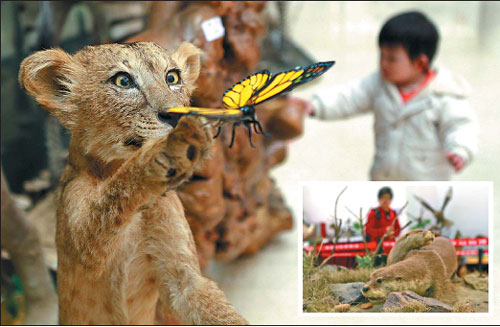 Stuffed lion and mink (inset) attract visitors at the National Zoological Museum of China. Photos by Cui Meng / China Daily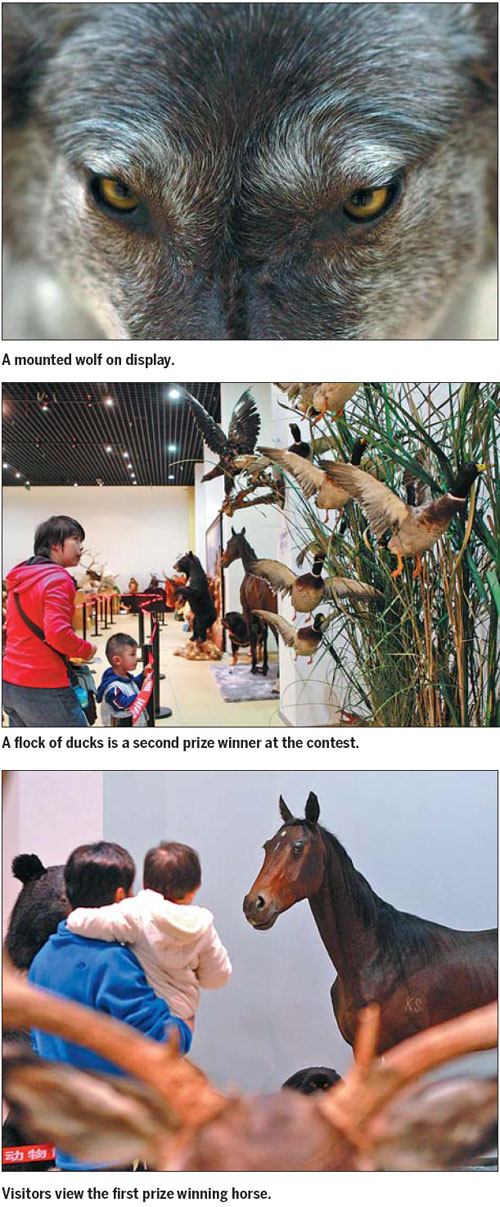 An animal specimen competition brings a bounty of beasts to Beijing. Wang Kaihao reports in Beijing.
This is a show that has spectators saying, "Lions and tigers and bears - Oh my!" Mounted specimens of these large predators are on display alongside their prey. About 300 stuffed animals from across the country, they are contestants of the first Chinese Animal Specimens Competition at the National Zoological Museum of China, in March, Beijing. The show will run until May 27. Organizers plan to stage the contest every other year.
"This is the country's highest-level animal specimen competition," Beijing Zoo manager Xiao Fang says.
Xiao is also head of the seven-judge panel and has worked as a taxidermist at the zoo since 1981.
"We judge the specimens' anatomical structures, scientific values, preparation processes and aesthetics," he explains.
Ten specimens took the first prize and dozens of others won second and third.
Xiao says the awards are meant to encourage taxidermists, as the trade's level of sophistication in China lags behind some countries.
While the basic principle is simple - covering a sculpture with tanned animal hide - doing it well requires mastery, Xiao explains.
The country doesn't have taxidermy schools. So Chinese taxidermists must apprentice in workshops to learn their trade, Xiao says.
There are only about 100 full-time taxidermists nationwide, Xiao estimates. There are about 300 in total, if part-time practitioners are included. And there are less than 10 companies that can mass-produce.
"Many Western countries have specific sub-fields of taxidermy," Xiao says.
"They produce different types of glass eyes for different species, ages and sexes - and even to convey particular emotions. And they use various tanning formulas. But this is all underdeveloped in China. Still, Chinese taxidermists are learning fast as overseas communication advances."
Xiao took third prize in the amateur division of the 2007 World Taxidermy Championship in the United States. It was the first time a Chinese person had joined such a contest, he says.
One of the first prize winners is Beijinger Lin Jun, whose horse didn't receive a single "nay" vote.
"Because people are so familiar with horses, any tiny flaw would be conspicuous," Lin says.
"I had to be sure everything was perfectly accurate."
Lin stayed at a ranch for a month to observe horses before starting the project. He also pored over articles on horse anatomy.
But very few people do so much fieldwork in China, Chinese Academy of Sciences (CAS) zoologist Wang Song says.
"Animal studies in the country's colleges emphasize molecular biology, and researchers rarely leave their labs," Wang says.
Many colleges had taxidermy classes in the 1990s but later dropped them.
"How can we expect good taxidermy without field observation?" Wang says. "The lack of it is why so many specimens in top universities' museums aren't very good. They fall behind the standards of the schools' academic reputations."
That might be why none of the competition's entries came from colleges. And the lack of high-quality taxidermy might contribute to the absence of a national science museum in China.
"Of course, we want a Chinese counterpart to the Smithsonian Museums," Wang says. "But can we just present pictures in a fancy building?"
National Zoological Museum director and CAS zoologist Huang Chengming says such a museum has been discussed for years. The country can afford its construction but is still waiting to start.
"Taxidermy is a popular science tool," Huang says.
"No matter how we develop the trade, doing so remains an important target to enable us to better acquaint the public with science. And such specimens are crucial records of biological history."
Huang says about 6,000 of the museum's 5.8 million specimens are displayed, while the rest are stored as hides.
"We don't expect these specimens to portray the animals' lives," he says.
"But they indicate important scientific information, such as their habitats."
About 80 percent of exhibited animals come from zoos, but many still have ambiguous origins, Huang says.
State Forestry Bureau animal protection official Wang Weisheng explains: "The lack of regulations leaves room for poaching. But also, many animals die naturally and their bodies are wasted."
More wild animal breeding centers might contribute to more balanced sourcing, he believes.
Fujian province is a major taxidermy base and has established a provincial association to regulate the industry and introduce more sophisticated products.
Participants of the Beijing contest used the event as an opportunity to call for the establishment of a national committee.
"We'll improve our administrative license system and more clearly identify animals' sources," Wang Weisheng says.
"As long as we don't hurt our ecosystems, we must prioritize taxidermy to popularize science."
Contact the writer at wangkaihao@chinadaily.com.cn.