If you can make it in China, you can make it anywhere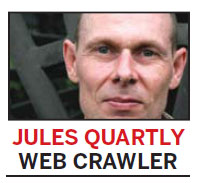 Business would be boring if it wasn't for the tech entrepreneurs turning geek into gold, so the biggest conference on rising star China's online moguls and tech innovation should be quite the draw. Expect bright ideas, serious players and even a little bit of adulation.
The last Chinict I attended was two years ago and as much as I was impressed by what the founder of China's Internet had to say, other high profile attendees, and lunch, it was the crazy networking going on that made the biggest impression. There was an embarrassing number of opportunities to meet and greet, and everyone was dead keen to introduce their ideas. Either that or somebody who had already cashed in their idea was telling an audience that hung onto every word how they could do the same.
"It's a community of entrepreneurs," says Chinict founder and president Franck Nazikian, comfortably seated at his favorite Italian eatery on a recent afternoon in the capital. "We're just putting everybody together and then we'll see what happens."
The Frenchman who is a start-up entrepreneur and active investor, but no longer passionate about wine making, ticks off the industry leaders who will attend and control an estimated "$5 billion worth of transactions", well aware that tech and cash have a kind of sex factor.
This year's conference is the eighth annual and will be from May 24-25 in Beijing, at Tsinghua Science Park, are expected to be attended by about 700 people and watched by more than 2 million online viewers.
Notable international attendees listed include Andrey Andreev of Badoo, a website that boasts of hosting 147 million "boys and girls" looking for dates; one of the most successful tech investors ever, Yossi Vardi; and Facebook co-founder Eduardo Saverin.
Closer to home, Baidu founder and CEO Robin Li will be popping in; as will Tencent Vice President Richard Peng; and Herman Yu, the man behind Sina Weibo, the world's largest microblogging site and six times bigger than Twitter.
A kind of evangelist for entrepreneurism, Nazikian compares it to "being like a religion and we should die with our ideas, but be street smart enough to change them occasionally".
He says, "I would prefer to be homeless than work for a company that's not mine," adding he doesn't see much difference between himself, Bill Gates and "the guy who repairs my bike. We don't depend on a paycheck and it's not just about the money, it's about having a kind of freedom."
He says the difference between a successful entrepreneur and a failed one is timing. "They embrace the trend at the right time. If they get in too early, they become exhausted, too late and they're just followers."
Which brings him back to why he's holding a tech conference in China, and not the real Silicon Valley in the US, India or Brazil.
"Actually, Chinict was a pretty bad idea of mine because it was 10 years before its time. In three to four years, everyone in the tech business will be coming here all the time," he says, mentioning the repeat visits of Mark Zuckerberg.
"It's the same with the tech revolution in China. This is just the beginning, even though I would add that when I said a few years ago that Beijing was the new Silicon Valley, I think this has already materialized."
He provides evidence for this view by saying that two of the world's five largest Internet companies by market cap are Chinese, namely Tencent and Baidu. Nazikian now believes that the next step in China's tech revolution is expanding further globally.
"In the past, companies here did not have a strong desire to go into the wider world because the market here was good and they had no confidence. Now many Chinese entrepreneurs understand what it takes to make it big and it's true to say, 'That if you can make it here, you can make it anywhere'."
For more details of Chinict, the conference, attendees, and the Hackathon competition for developers and designers who get a chance to pitch for a share of $5 billion, click on www.chinict.org.
Contact the writer at juleschinadaily@gmail.com.