Creature of conscience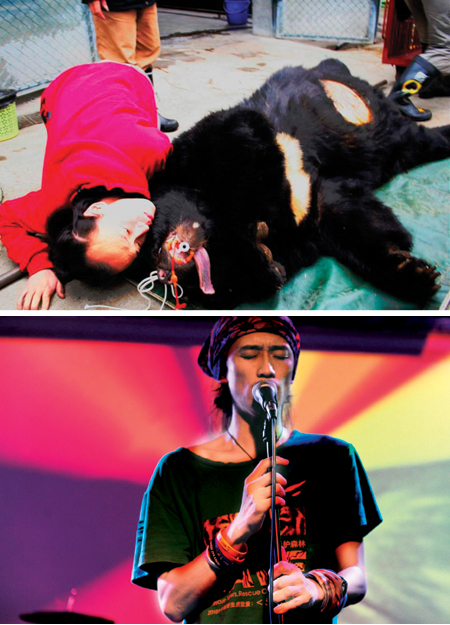 Top: Xie Zheng takes care of a rescued moon bear at a bear-bile farm in Sichuan in 2008. Above: Xie Zheng sings Don't Wear Fur to raise concern about animal fur consumption. Photos Provided to China Daily
Rock star Xie Zheng was inspired by a nightmare to give up meat and dedicate his life to animal protection. Wang Ru reports.
Xie Zheng, 33, is skinny and has long hair, just like a rock star, which is no surprise since he fronts The Giant Beanstalk, a band from Anshan, Liaoning province. Xie now lives in Beijing and, as a vegan, says he prefers to emphasize animal protection rather than entertaining people.
His most recent campaign - along with his animal welfare group Don't Eat Friends (DEF), NGOs and celebrities - is a protest against Guizhentang Pharmaceuticals, one of China's largest bear-bile producers, which is about to make its initial public offering.
He plans to build online support for a ban on the bear-bile industry by organizing volunteers in major cities across China, who will post photos of their protests on the micro-blogging service Sina Weibo.
In 2008, Xie took part in a rescue mission to save moon bears at a bear-bile farm in Sichuan province. He was shocked by what he experienced.
"There was a terrible smell from a moaning bear in a cage, whose swollen abdomen had been become severely infected," Xie says.
"The place is a living hell for those bears. Don't trust the so-called 'painless method' of bile extraction. The hole in the bear's abdomen that is exposed to the air will inevitably cause pain and lead to infection, which is why bile-bear farmers have to inject a lot of antibiotics."
In 1998, Xie and his rock band lived in the countryside but ran out of inspiration. A few years later, it moved to Beijing to perform in pubs and at music festivals.
The Giant Beanstalk mixes traditional Chinese instruments, such as the erhu and ancient poetry, with contemporary rock. Some of their songs are about animal protection, addressing such concerns as the animal fur and tiger bone trades.
"Our ancestors respected nature and animals much more than us. For instance, Taoism emphasizes living in harmony with nature. But sadly, we have lost many of our valuable legacies," Xie says.
One of his most famous songs is inspired by an old poem about a wild goose mourning the loss of his mate killed by hunters.
Xie talks about how he changed from being just a rock star to a man with strong convictions, after having a nightmare in 2005.
"I used to have bad habits like smoking and drinking, but luckily I woke up and started to enjoy the simple life," Xie says.
He recalls his nightmare: "I was walking through a long corridor in the darkness when I came to a bloody slaughterhouse. Pigs on hooks looked at me with mournful faces. In the end, the chilling pig faces changed into the faces of my dog, my friends, band members and finally myself."
Xie stopped eating meat and turned his home into a shelter for abandoned pets.
"People are living under the control of desires, like string puppets," he says. "In fact, the less we desire, the easier it is be satisfied. After giving up many desires, I feel relaxed and happy."
In 2006, Xie founded DEF to promote animal welfare. "Actually, I don't like the phrase 'animal welfare', since to live and not be tortured are rights for all creatures," Xie says.
DEF is based in a courtyard house he rents in a northwestern Beijing suburb, among orchards and small plots of land growing fruits and vegetables. He lives with six dogs and eight cats.
Pet adoption is one of DEF's major tasks and the organization has rescued, and provided shelter and homes for 300 cats and dogs.
Xie pays three female vegetarians to assist him with this work. Han Lili, a cartoonist and sculptor from Shanghai, helps Xie design animal protection posters.
Their posters and pictures are often used by animal welfare NGOs, including the recent campaign to prevent a rodeo in Beijing and another to protest Canadian seal culling.
Xie has online stores that sell his CDs and souvenirs, which help sustain DEF.
"Most people who buy stuff are my friends and people who want to do something to help animals," Xie says. "I don't want to accept funding from other organizations and companies. Instead, he often donates money to big animal welfare NGOs.
Despite the fact that there isn't an animal protection law in China, animal welfare awareness has been growing in the past decade.
Along with Xie, more than 70 animal welfare NGOs and celebrities signed up to stop the Guizhentang IPO.
"Before 2003, animal welfare groups were rare in China," says Zhang Dan, co-founder of China Animal Protection Media Salon. "Animal welfare advocates were represented as retirees feeding street dogs and cats.Thanks to the Internet, our society, especially young people, have begun to understand the value of animal welfare. It is a trend for young people with creative ideas and enthusiasm to protect animals."