Fishing for solutions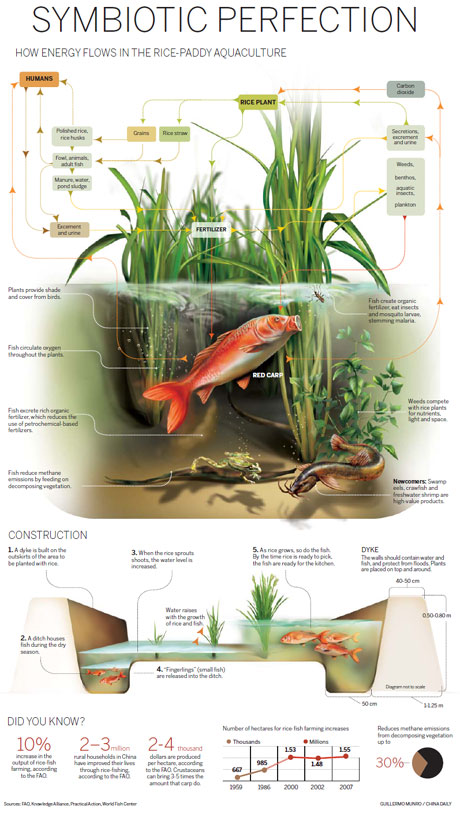 A mountainside village that practices aquaculture in rice paddies might hold the key to improving agronomy nationwide. Xu Junqian reports.
Fish have played a greater role in life in remote Zhejiang province's Longxian village than perhaps in any other of the country's seaside fishing towns. Fish are the theme of folk songs and dances, and festival celebrations. The village's ancestral hall is laden with fish-shaped lanterns. Every family's front yard hosts a square fishpond brimming with red and spotted carp. More emphasis is put on the ponds than on the gates in this settlement in Qingtian county. That's because a unique symbiotic rice-fish aquaculture system has fed the village for more than 1,700 years. Fish are raised in rice paddies, saving space and labor so farmers can produce more crops and fish. "Land conservation is, of course, the biggest advantage," agronomist Wu Minfang says, standing by the stone fish statue that marks the mountainside village's entrance. On the back of the human-sized statue is a marble sign that reads: "Globally Important Agricultural Heritage System (GIAHS)". The sign rises above the gravel main road to the village of 1,500. It was erected after the Food and Agriculture Organization of the United Nations (FAO) named the village's rice-fish system among the first five GIAHS programs in 2005.
The village has come to prominence as the Chinese central government prioritizes agricultural technology.
"Everyone has been talking about new scientific revolutions, but here is a system that has been created, sustained and proven by generations of farmers building on thousands of years of knowledge and experience," says Wu, who has studied the system his entire life.
The rice plants provide the fish shelter from the sun and predators like egrets. The fish fertilize the rice, regulate the paddies' microclimates, and eat the larvae and weeds that harm rice.
The village is nine tenths mountainous. Half the remaining land is covered by water and the other half is field, Wu explains.
"So, our ancestors developed this agronomy to survive," Wu says.
Longxian covers about 27 hectares and contains 140 fishponds, local government figures show. It produces about 10,000 kg of tianyu carp.
Farmer Yang Minkang says he has spent more time with his fish than his children.
The 55-year-old sprinkles a handful of fry into his 0.6-hectare paddy during the Lunar New Year, and harvests 250-gram fish in September.
"You have to put them in the water at dawn or dusk," he explains.
"The water's too warm for them to adapt at noon."
Yang is shy except when talking about fish. Then he becomes hyperactively animated.
The farmer has started developing his "only interest and area of expertise" into a profitable business since 2006, as he and his wife opened a restaurant after his wife discovered visitors want dried and cooked tianyu.
"A growing number of businesspeople from neighboring cities like Wenzhou and Hangzhou are driving here on weekends to try our fish and enjoy the countryside setting," Yang says.
Business has been brisk for the couple, who had previously sought their fortunes toiling as migrant workers in cities - but in vain.
The couple and their son invested 80,000 yuan ($12,700) and hired a helper to renovate their one-room store and an abandoned mill into a two-story eatery.
"Over hundreds of years, my ancestors passed down this plot of land and a few tools," Yang says.
"But I'll pass down the money and keys to this restaurant to my descendents."
Wu looks at the bigger picture. He believes that with a few tweaks, Longxian's rice-fish system could be adopted nationwide.
"(This can create) resilient ecosystems that benefit both nature and humankind," he says.