Circuit breakers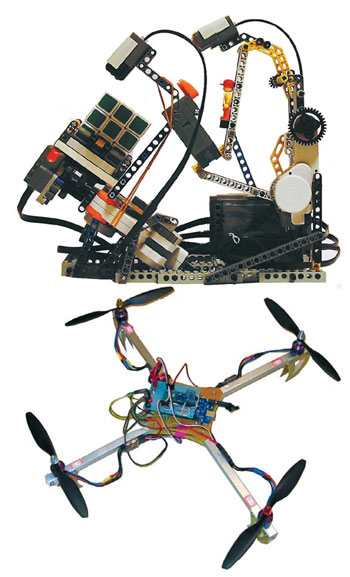 Chen Wu's miniature robot (top) and quadrocopter. Photos Provided to China Daily
A group of DIY gizmo and robot inventors seek to rewire their futures. Wang Kaihao reports.
The 20-square-meter room is on the second floor of an unassuming building called Fuhao Xiezilou, which literally means, "Office of the Superrich", in Beijing's Xuanwumen area. But the people inside don't look rich, and the messy space doesn't look like a typical office. It's heaped with circuit boards, silicon chips and various electronic components that appear bizarre to laypeople.
This is "Beijing Makerspace", where a group of developers tinker with electronic components to create everything from gizmos to robots as hobbies and careers.
Xiao Wenpeng quit his four-year stint as an IT company programmer in 2005 to start his own business, producing handmade digital devices and developing new silicon chips.
But he found the undertaking tricky to tackle alone.
"I want to meet different people with the same interest in DIY electronics," the 33-year-old says.
"We can make more dreams come true by joining forces."
That's why he opened the Makerspace in 2010. More than 20 young people gather there weekly to exchange ideas and plans to translate their blueprints into electronics.
Website employee Chen Wu says he was inspired after learning about Makerspace through its micro blog.
"It's great to communicate with so many people with the same passion and eagerness for creation," the 32-year-old Beijing resident says.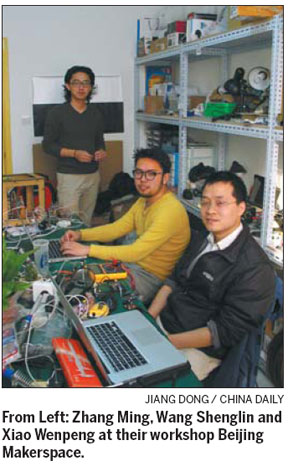 "I really envied the tech-savvy guys in university, because they would always be invited to the women's dorms to fix computers. That was one of my initial motives to do something cool."
But a lack of materials, DIY experience and time off work suffocate much of Chen's inventive productivity.
However, he uses what spare time he has to read about robots. And in 2008, the man who calls himself "Dynamic Old Boy" online created a miniature robot out of Lego that can solve any Rubik's cube within six minutes.
"When I actually started working on the robot, I found it's not as difficult as I'd expected," Chen says.
"It's just like building with blocks but with electronics."
Chen still shows off his first DIY robot, even though it's not as fast at solving the Rubik's cube as the record holder, which can finish the puzzle in 5.35 seconds. Chen's robot is a personal milestone for the self-described "geek".
As a geek, he says he watches many movies, from which he often takes ideas.
He took inspiration from the film Inception, which gave him the idea of using magnetic levitation theory to create a gyroscope.
After watching the Bollywood movie 3 Idiots, he tried to replicate the quadrocopter - an aircraft powered and steered by four propellers - featured in the film. But the process has been anything but smooth.
"The most difficult thing is to keep the aircraft's balance," he says.
"I'm seeking others' advice at Makerspace."
While toy quadrocpoters can be purchased for 1,700 yuan ($269), Chen believes it's much more meaningful to hand-make one, especially as a gift for his 18-month-old daughter. He believes he can finish it by Spring Festival.
"My greatest wish is to make a 1-meter-tall robot to play with her," he says.
While Chen treats robotics as a hobby, Renmin Univeristy graduate Wang Shenglin treats it as a career.
The 23-year-old finance major didn't search for a job after graduation but rather decided to work full time developing devices at Makerspace.
The Shanghai native has created a 1-meter-multi-touch table that resembles a gargantuan iPad.
"I first saw a multi-touch table made by Microsoft on TV in 2008, but it costs more than $20,000. So, I made my own. We create some interesting devices," Wang adds, pointing to a remote control.
"I could take this to the store and change the TV channels. But I don't want to be a troublemaker. We make stuff like the guys in the The Big Bang Theory," he explains, referring to the hit US sitcom about a group of hyperactively intelligent but socially laggard friends.
"But I'm not a nerd like them."
Wang's past does suggest a relatively hip lifestyle.
He played on the school's tennis and cricket teams. And he flirted with advertising and even tried his hand at fashion design.
"If I don't try something new and exciting when I'm young, when will I?" he says.
"I ultimately find myself most interested in DIY electronics. My parents completely support me, even though I'm far from home."
But Makerspace faces financial challenges. It must pay a 3,000 yuan ($474) monthly room rental and hundreds of yuan more for materials. Testing equipment is also a big expense.
While their inventions may attract popular attention - the multi-touch table was spotlighted at this year's Beijing Design Week - most have yet to capture market demand.
But hope might come from the 3D printer Zhang Ming quit his bank job to invent. The device has aroused investor interest.
The printer lays down successive layers - usually of plastic or metal - to create 3D objects. It's widely sought after in the design industry, because it saves bundles on mockups.
Xiao's team initially believed it was merely a tool for rendering models of the electronics they develop. But the team discovered huge market potential for the device, as imported 3D printers cost 300,000 yuan ($47,400), but Zhang's retails for less than 10,000 yuan.
Zhang says the printer will be ready for the market next spring.
"We can't always stay in the lab," Xiao says.
"This project might turn things around."
And Makerspace's inventors and developers believe the 3D printer might be just the start.
The team hosts DIY salons and a book club to brainstorm about the latest technology and its potential. It also plans to organize a carnival next April to encourage more people to try DIY electronics.
Their hope is that those who work in the "Office of the Superrich" might actually live up to their workplace's name.
"The first thing we'll do if we get enough investment," Xiao says, "is move into a bigger office."