Virtually immortal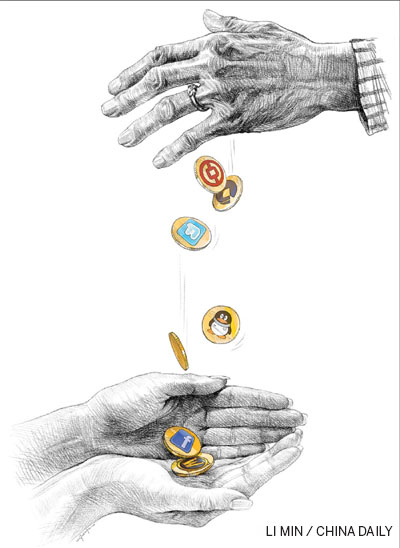 Controversy has grown in pace with the increase of digital epitaphs that commemorate the deceased on social networking sites. Xu Lin reports.
He Dan says he intends to commemorate the deceased individuals whose photos he posts in online memorials on social network sites (SNS) - not create controversy or violate their privacy. The 22-year-old created an album entitled "Kids Who Go to Heaven" on Renren.com in June. The album shows photos, gives introductions, causes of death and Renren accounts of 92 people who died in their 20s. "Life is precious," He says. "If we suddenly pass away, social networking site profiles are our epitaphs." The album went viral online and has received several million clicks. Most netizens express sympathy for those who died before their time, while others say He's album is a violation of privacy. "Some netizens swear at me because of it," says He, who works in logistics in an automobile company in Hunan's provincial capital Changsha.
"But most photos are provided by the deceased people's family members and friends, who want their loved ones to be remembered this way."
It started with five photos He took from the Internet. Then, a growing number of people contacted him to request he post their loved ones' photos, too, he says.
"I've gotten more than a thousand such messages but won't update the album because of the hateful messages others send me."
He started taking notice of university student deaths in 2007, he says.
"I ceremoniously browse the Renren profiles of those who pass away," he says.
"It makes me sad, because their profiles don't change after their deaths. It's like nothing happened."
In June, 22-year-old Zhejiang University student Yuan Hui drowned when he dived into West Lake in Zhejiang's provincial capital Hangzhou while trying to take a graduation photo. He had just received a full PhD scholarship from a US school.
"Yuan was so impulsive," He says.
"I set up the album the day I read the news, because I feel life is impermanent. One never knows what will happen in the next moment."
China has about 485 million netizens and 230 million SNS users, the China Internet Network Information Center reported in June. The seven most popular online applications are search engines, instant messenger services, music, news, blogs, games and videos, the center says.
"SNS profiles record the daily lives and growth of young people who use the Internet," He says.
"Friends and family of the deceased can visit their loved ones' profiles when they miss them. I often do this and leave messages for my friend who passed away."
Despite the backlash against He, his behavior isn't unique.
Qin Chuan drowned at age 25 in 2009, but his girlfriend, Zhang Xi, has written messages on his Renren profile every day in the past two years, as if he's still alive. The story moves many netizens.
"Profiles are part of our online legacies, which should be inherited," He says.
"I set up a timed e-mail release, which will send my SNS accounts and passwords to my family and friends after 50 years. I will also add my kid's e-mail address to the list."
But not everyone wants to be memorialized in such a way.
Office worker Zhu Lina, who lives in Guangdong province's Shenzhen city, says she doesn't want to "lose" her privacy when she passes away.
"Everyone has secrets, even from one's family," she says.
"I don't want my parents to interfere in my life, especially in my relationships. Cyberspace is my only free space. And my Internet activity is purely entertainment there's nothing worth preserving."
In October, Tencent refused to give a woman surnamed Wang the QQ (an instant messenger service) password of her late husband, who died in a traffic accident. Wang wanted to get the messages and photos in his QQ mailbox because they detailed their happy memories.
"Many services Tencent provides via QQ are private, such as diaries, e-mails, chat records and photos," Tencent's public relations officer Liu Sishan says.
"Customer privacy counts. We feel sorry for Mrs Wang and are dealing with the case."
Liu says they've dealt with several similar situations. If one can prove the account belongs to one's deceased relative, Tencent will transfer "virtual Q coins" and money in Tenpay (an online payment platform), and delete the account.
While a QQ account is deactivated if unused for a certain amount of time, a Renren account is only deleted if users apply.
SNS websites, such as Renren.com and Sina Weibo micro blog service, say immediate family members of the deceased can inherit their accounts after submitting certain proof. But the companies refuse to reveal how many accounts have been inherited.
Weibo adds a capital "V" with the user names of celebrities, influential people and organizations. It also adds "V" to the names of those whose deaths draw public attention, such as the couple Xiang Yu'an and Shi Lihong, who died in a fatal high-speed train crash that killed 40 people in Wenzhou, Zhejiang province, in July.
"Many netizens are concerned about them and the accounts are worth a fortune to their families, who want to keep them," Sina Corp public relations officer Mao Taotao says.
Seasun Game Studio vice-president Sun Hongyin says this never happens with online game accounts.
"But I understand that, because it costs a lot of time and money to play online games and buy virtual goods," Sun says.
There are several online legacy trust websites in the United States. Users write their last words, online account information and passwords, and create an e-mail list. If they don't log in for a certain period of time, or a loved one reports their death, the documents are automatically e-mailed to everyone on the list.
In China, 187 out of 207 respondents to a Sojump.com poll say they have no idea what an online legacy trust is. About 79 percent believe it's important to protect online legacies, and 67.63 percent agree relatives should inherit them.
"China should provide such services, too," He says.
Beijing Shengfeng Law firm partner Yu Guofu says the written, photographic and artistic works on an individual's blogs are protected by copyright. Personal online accounts that involve one's privacy, such as QQ, e-mail addresses and SNS accounts, can't legally be inherited.
"One's QQ account is not property but, rather, a service vehicle," Yu says.
"One may have property tied up in the platforms, such as money in Tencent's online payment platform Tenpay and virtual Q coins. These can be inherited."
Yu believes there is no need to create relevant legislation.
"Although Chinese law has no clear definitions of digital legacies, problems can be solved through China's rights law and its law of succession. Disputes over digital legacies will decrease as we explore how to tackle these questions."