Digging themselves out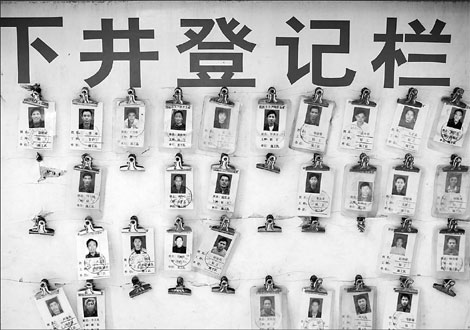 Cards bearing the names of miners who are underground at the gold mine in Zhaoyuan, Shandong province. Zhao Gang / For China Daily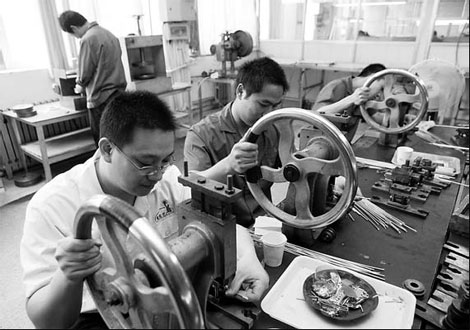 Workers process gold at a factory in Zhaoyuan. Zhao Gang / For China Daily
A family that has spent three generations mining gold hopes for a bright future. Zhang Yue reports.
Li Xiumei, her father, husband and son, have spent most of their working lives like moles. Three generations of the family have been gold miners. They've earned their livings by burrowing tunnels in the massive anthill beneath Shandong province's Zhaoyuan city. The family now lives two hours from their hometown of Laizhou city. Zhaoyuan is part of the Jiaodong region that contains 90 percent of Shandong's gold ore reserve. These deposits have created a golden opportunity for the family to find prosperity - but at a price.
Li's father died at age 74 from silicosis, the advanced stage of the respiratory disease pneumoconiosis that also assails the lungs of her husband, 54-year-old Tong Ming. The lung ailment caused by years of inhaling rock dust accounts for 90 percent of China's occupational disease cases, the Ministry of Health reports.
"I have few childhood memories of my dad," Li says.
"He only came back two or three times a year. He'd bring us fancy candies. It was our happiest time."
He didn't talk much about work. But she recalls hearing her parents whispering at night.
"I once overheard them talking about health but didn't pay much attention," she says.
"He had a lot of trouble breathing toward the end."
She quit high school at age 17 to follow her father down Zhaoyuan's mineshaft in 1975.
Her first job was directing traffic lights for the underground vehicles.
"Today, it's illegal for women to work underground," she says.
"But that wasn't the case in my time. There were a lot of girls down there."
She recalls feeling suffocated when she took the "cage" (elevator) about 100 meters under the earth.
"The temperature down there is the opposite of above," she says.
"It's extremely hot in winter, so you're sweating even if you're hardly wearing anything and aren't moving."
After two months, she took a safer position as an elevator control station operator. Li, who retired in 1999, became a mother in 1982 and continued working underground until she was seven months pregnant.
Her son began mining a year ago - that is, about a year after her husband was diagnosed with pneumoconiosis.
Tong's employer, Shandong Gold Group Co, Ltd, discovered he had the disease during the annual checkup it provides all employees. Workers with pneumoconiosis are reassigned aboveground.
He was moved from his job as a driller, who bores holes into the rock into which dynamite is set, to a position in the control center.
Tong also suffers arthritis, which he believes comes from his years of working in a wet, drafty environment.
"I earn a lot less than before," he says.
"Everyone wants to work underground. It's dangerous and exhausting, but it pays well. You endure that for 10 years or so, save your money, buy a house and give your family a good life. Isn't that what we all want?"
The family doesn't own a home but pays only 30 yuan ($4.70) a month for the 60-square-meter apartment provided by the company. While they've spent their lives extracting gold from the earth, they don't own any.
The couple has mixed feelings about their son, 29-year-old Tong Liangliang, following in their footsteps.
Liangliang bounced around jobs after high school, only to find mining pays the best.
"He knows what it's like being a miner," his father says.
"If he still wants to do it, that's fine. But I sometimes remind him about his health."