Keeping the peace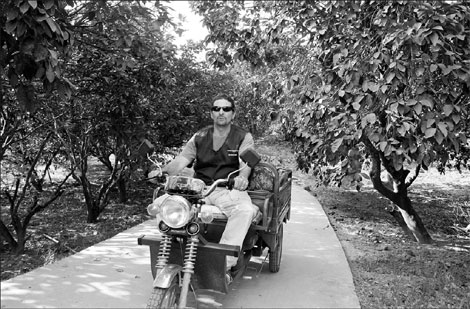 Australian Stephen Cramb, in his volunteer vest, patrols on his electric tricycle in Yangshuo, the Guangxi Zhuang autonomous region's top tourist destination. Photos by Huo Yan / China Daily
An Australian talks about life on a volunteer task force that helps foreigners and local police deal with law enforcement issues in Yangshuo. Sun Li reports.
This tai chi master doesn't look like the rest of the security forces in Yangshuo county. The bearded, muscular 47-year-old, who glares at the world through sunglasses as he patrols on his electric tricycle in the Guangxi Zhuang autonomous region's top tourist destination, stands out from others serving law and order - mostly in that he's a foreign face. Meet Australian Stephen Cramb, a member of the foreign volunteer task force that helps local police handle cases concerning foreigners. To cope with the massive influx of tourists from abroad, the public security bureau's Exit-Entry Administration Department assembled the volunteer team of 16 expats from such countries as the United States, Germany and Belgium in March.
Cramb, who has lived in Yangshuo since June, joined in September.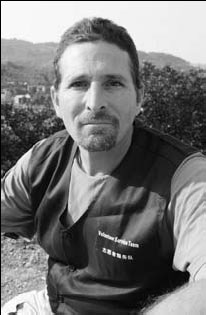 "To become a member of the team, obviously, you have to be law-abiding and be familiar with the local environment," Cramb says.
"But, most importantly, you should be willing to help. As volunteers, rather than directly communicating with locals, what we normally do is to talk with foreigners and help them understand the local culture."
That means sacrificing free time and devoting energy and patience to dealing with anything from offering tourism information to mediating incidents between foreigners and Chinese.
Head of the county's security bureau Li Daojun says the growth of the expat population to about 100, coupled with the swelling numbers of overseas tourists, has led to a growth in police cases involving foreigners.
Cramb loves Yangshuo and says he regretted seeing tourists encountering problems during their visits to the settlement he considers his community.
Such issues include pickpockets and thieves, and drunken brawls, he says.
Cramb says language is not an issue for his work, because he speaks proficient Cantonese and basic Mandarin, and mostly deals with foreigners, anyway.
He often patrols the streets in the afternoon, especially around 2 pm, when the tourism areas are bustling, greeting and offering security advice to travelers.
He sometimes wears plain clothes when flying solo on his rounds but dons his blue cap and vest printed with "Volunteer Service Team" during his weekly patrols with other volunteers.
"At the beginning, local people stared at me and wondered why I meddled in other people's business," Cramb recalls.
"But later, they understood what I'm doing, as they saw we were in uniforms (and are) a strong presence sending helpful messages."
Cramb often strolls along the streets and approaches foreign strangers.
"Once I strike up a conversation with a foreign traveler, I'll introduce some places of interest to him, remind him to take care of his belongings when he walks around crowded areas and see whether he needs some help, say, with the register thing when checking into a hostel," he says.
Cramb worked as a translator and studied kungfu in Hong Kong for more than a decade before coming to Yangshuo to meet Fu Nengbin, one of Chen-style tai chi's most prominent masters.
The county cast a spell on him, he says. "The lush foliage, the rice paddies and the clean air are reminiscent of my previous countryside life in a town near Brisbane," the former farm owner says.
"With the tai chi teacher and a lovely environment, Yangshuo becomes the ideal location. So I decided to bring my family and settle down."
Cramb says he doesn't need to worry about money because he owns a large property and has sufficient savings.
"I'm only a tai chi student here, and I'm basically retired now, so I have enough time to help out," Cramb says.
So he spends his days honing his martial arts skills, tending to his garden and feeding his chickens when not on patrol.
He plans to stay for five more years and open a hotel.
"At the same time, I'll continue practicing tai chi and pick up more Chinese to improve my volunteer service," he says.
"I could be in a possible situation that requires translation for both the Chinese and the foreign travelers' sides."