Better read than Red
Updated: 2011-10-14 10:20
By Yu Wentao (China Daily)
| | | | | | | | | | | |
| --- | --- | --- | --- | --- | --- | --- | --- | --- | --- | --- |
|   | | Comments() | | Print | | Mail | | Large Medium  Small | 分享按钮 | 0 |
Xinhua Zidian ("Xinhua Character Dictionary") has lost its political color and is now a true reference book for Chinese language learners.
For its 11th edition, newly published by the Commercial Press, all political jargon has been deleted and everyday expressions dominate the 13,000 entries.
First published in 1953, Xinhua Zidian has been reprinted more than 200 times for a total of 450 million copies. In spite of its small size, the dictionary ranks among the best in the lexicon family and has benefited millions of Chinese readers for generations.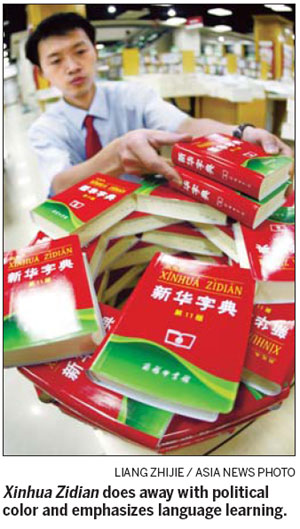 The basic element of the Chinese language is zi (character), not ci (word). Of course, a single character can be a word at the same time. In most cases, however, a word is formed with two or several characters.
That is the difference between cidian (word dictionary) and zidian (character dictionary). A zidian lists characters as entries and at the same time offers relative words and sample sentences.
Xinhua Zidian was New China's first modern character dictionary, which uses vernacular Chinese instead of classical Chinese to explain modern Chinese. It aims to popularize Putonghua and promote Chinese standardization.
Putonghua is standard Chinese, taking Beijing dialect as the basic pronunciation, the northern dialects as the basis, and modern Chinese vernacular writing as the standard for grammar.
Xinhua Zidian was originally compiled in 1953 by Xinhua Lexicon Society (now the Language Institute under the Chinese Academy of Social Sciences), with Wei Jiangong as its chief compiler.
In the 1950s and 1960s, Xinhua Zidian had a political tone that reached its zenith during the "cultural revolution" (1966-1976). In the 1971 edition, there were 46 quotations from Chairman Mao Zedong and nearly 2,000 entries were re-written according to "revolutionary principles".
For example, in explaining the character "han" (shout), the dictionary gives such a "revolutionary" sample sentence as "People are shouting 'Long live Chairman Mao!' "
The 1979 edition of Xinhua Zidian also contained outmoded political terms such as "people's commune" and "production team". What is worse, new political jargon was inserted. This situation did not change until 2004 when the 10th edition came off the press.
The highlight of the 10th edition is the addition of 100-plus new words that embody the dramatic changes of China's economy, sciences and social life, such as "futures trading", "white collar", "sex education" and "generation gap".
The 10th edition also stresses the concept of environmental protection. For example, the entry "jing" (whale) used to be explained as "a mammal whose meat is edible and whose body fat can be used as cooking oil". In the 10th edition, "jing" is interpreted as "an animal under the protection of the State".
With increasing internationalization there are more borrowed words, Internet terms and fashionable expressions. The 11th edition of Xinhua Zidian mentions "bai bai", an analogue to the English greeting "bye-bye".
The word "shai" has several basic meanings in different contexts such as "to air a quilt in the sun" or "to dry grain in the sun". Now it has another meaning - "to show off one's income, happiness or privacy".
Xinhua Zidian remains a best-seller in the book market because of its quality and low price. In the face of challenges from e-publications, publisher Commercial Press commented it has confidence in this "evergreen book" because it keeps pace with the times.