At home in two worlds
Updated: 2011-06-22 18:42
By Mary Katherine Smith (China Daily)
| | | | | | | | | | | |
| --- | --- | --- | --- | --- | --- | --- | --- | --- | --- | --- |
|   | | Comments() | | Print | | Mail | | Large Medium  Small | 分享按钮 | 0 |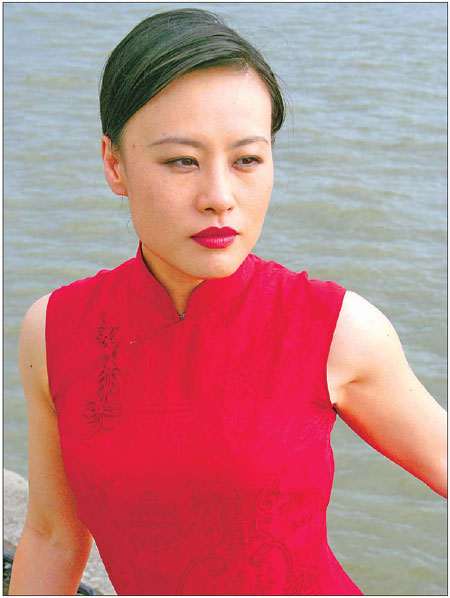 Actress Vivian Wu says she enjoys being a "bridge" between Hollywood and the Chinese film industry.[Photo/China Daily]
From Hollywood to Chinese television and now its silver screen, Shanghai actress Vivian Wu has come full circle. Mary Katherine Smith reports.
In the almost 25 years since her Hollywood debut in the Last Emperor, actress Vivian Wu can be seen everywhere, from the United States' silver screens to Chinese television sets to strolling around Shanghai's posh Xintiandi.
Soon, audiences all over the world will be able to see her latest performance in Snow Flower and the Secret Fan, a film adapted from Lisa See's eponymous novel. Wu plays a modern-day matchmaker, working alongside other stars from China and abroad, such as Li Bingbing and Hugh Jackman.
The film, part of which was shot in Shanghai, follows the story of a generation of women from ancient China to modern-day Shanghai who are connected by the ancient bond of laotong, or "old sames". Wu says the film embraces much of what China is trying to do today: balancing the old with the new.
She does admit that the film is not as commercial as some audiences, especially the ones in China, are used to. "Hopefully Snow Flower will help Chinese appreciate more 'artsy' films," she says, and will enjoy it enough to not chat with one another or on their cell phones, something that bothers her when going to the cinema here in China.
In an era when Hollywood films are increasingly shifting their focus and interest to Asia's big dragon, Wu says she's enjoyed being a "bridge" for the two cultures and the two industries.
Having spent her first 20 years in China, for what she calls her compulsory education, and her next 20 years in the US, she may be one of the best people for the job.
She admits that she's more "Westernized", but now has the best of both worlds. "Things are a lot more exciting in China," she says. "The industry is changing so fast and there's a lot of room for growth. And it's changing in a good way."
It's the kind of change, she says, you only see "once in a thousand years".
And Wu, who comes under the horse sign of the Chinese zodiac, says she's caught in the excitement. "I'm galloping right now."
That galloping and China's changing entertainment industry has brought her back to re-establish herself as an actress in her home country. Her role in the 2009 mega-hit TV drama Woju, known in English as Dwelling Narrowness or Snail House, catapulted her back to super stardom status in China. Some people found her interest in doing Chinese television odd since she has typically been a movie actress. "But I saw the changes", she says. "There are a lot of good TV series now."
She was drawn to Woju and particularly to the character of Song Tai. "I really enjoyed the challenge," she says. "When I read the script, I really liked this part. I finished reading the script in one sitting."
The show was immensely popular because of its envelope-pushing nature, addressing issues such as corruption, love affairs and rising housing costs. She says people could identify with the show and especially her role as the wife of a government official caught up in corruption and a love affair.
"I understand why people see themselves in the show and have their own understanding and connection," she says. "It's very relatable."
She even recalls being recognized by voice when out golfing in Shanghai. She says the staff at the golf course overheard her talking in the club house and came from a back room saying "That is Song Tai's voice". She admits it was a little strange and surprising, but "it made me realize the power of Chinese television".
The power that comes with being an international star has helped Wu give back to the community. She started her Vivian Wu and Friends celebrity golf tournament in 2009 and will host the third tournament in September. She initially got the idea from Michael Douglas while vacationing in California, when she saw his golf tournament. A few years later, she was hosting her own in China.
She was able to raise 600,000 yuan ($92,300) in the first year of the tournament, and with invites extended to Chinese actors, producers, directors, business people, the actress has been able to raise about 3 million yuan from the one-day event, dinner and auction. The proceeds go to Shanghai Youth Development Foundation, a cause she feels closely tied to because she enjoyed her school days in China.
"I remember high school as my best time in China," she says. Now that education comes with a stifling price, through the proceeds of the tournament, she wants to provide financially needy and academically worthy students the opportunity to attend high school.
While she may be an internationally known star, Wu is incredibly humble, and admits she's a very sentimental person. In between reading scripts, filming movies and Chinese television series and hosting charity events, one of her top priorities is caring for her Shanghainese parents. As the oldest daughter, she takes pride in making sure her parents are cared for by their own kin.