A Chinese tale with universal appeal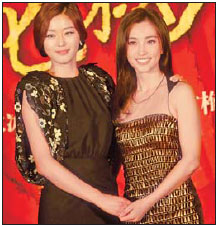 Chinese actress Li Bingbing (right) and South Korean actress Jeon Ji-hyun at the news conference for Snow Flower and the Secret Fan.[Photo/China Daily]
Chinese-American director Wayne Wang is known to look to Asian-American writers for inspiration - his film adaptation of Amy Tan's The Joy Luck Club won him wide acclaim in Hollywood and is considered one of the best portrayals of Chinese women living in the United States.
His latest work Snow Flower and the Secret Fan, to be released in China on June 24, is in the same tradition. The big screen remake of Lisa See's novel centers on two women's lifelong friendship in the 19th century and that of their descendants in modern times.
The storyline may sound familiar to those who have seen the 1993 The Joy Luck Club, but Wang, 62, denies Snow Flower is another Club.
"While Club is about mother-daughter relationships, Snow Flower is a story of two female friends," Wang says. "What touched me is that it depicts the relationship between women in a society dominated by men, that's very precious."
Wendi Deng, the Chinese wife of News Corporation Chairman Rupert Murdoch, produces the film.
"I saw this book four years ago and liked it so much. The story is about how friendship helps two girls get through all kinds of tribulations in life," she says. "Although set in China, the story could happen to any race, any people and any country, it is a universal movie."
Deng is proud of the film's cast and crew, which she describes as a top international team: the script and the music score are by Academy Award-winners Ronald Bass and Rachel Portman respectively.
Mainland A-lister Li Bingbing and South Korean star Jeon Ji-hyun lead the cast. Hugh Jackman puts in a cameo appearance and demonstrates his gift for singing by belting out a Chinese ballad.
The film marks the reunion of Wang and actress Vivian Wu after The Joy Luck Club, in which Wu plays one of the four Chinese mothers.
Wu, who plays an aged aunt to one of the heroines in Snow Flower, says Club is a special movie, which triggers her tears every time she sees it, although Wang reveals she is actually a humorous person.
"Every time she is on the set I laugh like crazy," he says.
Fox Searchlight Pictures, a subsidiary of News Corporation, will release the film in the US on July 15.