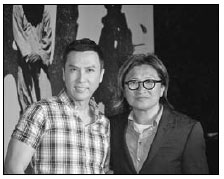 Hong Kong director Peter Chan's period blockbuster Wu Xia, about martial arts, will premiere on July 4, rather than Aug 3.
The adjustment has been made to avoid clashing with Transformers 3, to be released on July 21 in China, Chan says.
The movie starring Donnie Yen, Takeshi Kaneshiro and Tang Wei will put films of this genre on a new level, the director said on the sidelines of the ongoing 14th Shanghai Film Festival. He also suggested Yen would win an award for acting.
Set in the early 20th century, Wu Xia centers on a mysterious murder case involving a group of secret kungfu masters.