China and Singapore wrap up film deals
China's Zonbo Media has signed a contract with Singapore's Homerun Asia to make a $15 million remake of the French literary classic Dangerous Liaisons.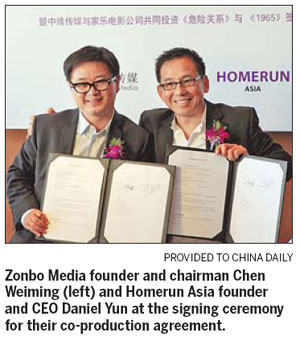 It is the most expensive picture co-produced by the two countries since they established diplomatic relations 21 years ago.
"The collaboration aims to create new Asian movies for a worldwide audience," says Chen Weiming, founder and chairman of Zonbo Media, one of the major distributors of Chinese blockbusters, such as Zhang Yimou's Hero and Chen Kaige's The Promise.
"Our companies share an international outlook. Together we hope to branch out of our countries into the international market," he adds.
South Korean director Hur Jin-ho, who worked with Zonbo to make the romantic film April Snow, will direct Liaisons, which is set in 1930s Shanghai. Filming will begin in September.
Chen also reveals that in the following three years the two companies will co-invest 400 to 500 million yuan ($62-77 million) to produce four more commercial movies, featuring top Asian casts and crews.
According to The Hollywood Reporter, one of the upcoming projects is a Crash-style multi-narrative, sociopolitical thriller called 1965, which is estimated to cost $5 million and is set against the backdrop of the founding of Singapore. It will be helmed by Singaporean director Lee Thean Jeen and Hong Kong supervisory director Peter Chan.
The film will be shot in Singapore, Malaysia and China, and will be dubbed in English, Malay and various Chinese dialects.
"China is one of the most important markets for Singaporean filmmakers in view of its huge box office potential and booming creativity, " Daniel Yun, founder and CEO of Homerun Asia, was quoted as saying in a statement by Zonbo Media.
China and Singapore reached an agreement last year that encourages filmmakers of the two countries to work together.
Under the agreement, a feature film approved as an official China-Singapore co-production will be considered as a domestic production in each of the co-production countries.
Co-producers can apply for any benefits or programs of assistance available in their countries for such official film co-productions.