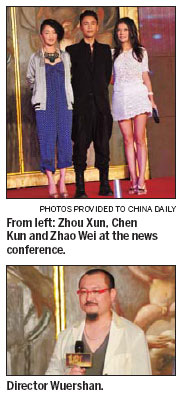 Chinese filmmakers generally tend to avoid supernatural subjects, as they are invariably put through greater scrutiny by the censors. But one film has managed to navigate this minefield so successfully that its box-office triumph has produced a sequel.
Painted Skin II, the follow-up to a 2008 film, is being pitched as "a romantic fantasy" instead of a ghost story, in view of the first installment's positive experience.
Painted Skin I, adapted from a thrilling piece in Pu Songling's Stories from a Chinese Studio, a collection of supernatural tales written in the early Qing Dynasty (1644-1911), focuses on the romance among a general, his wife and a pretty fox spirit, rather than on the depiction of the supernatural as in the original story.
More of an action-romance than a thriller, the film grossed a considerable 230 million yuan ($35 million).
The three stars who led the first film, Chen Kun, Zhou Xun and Zhao Wei, come together again in the sequel, which its producers claim is a "magnificent fantasy film".
"Romance is still a focus but does not involve just the three of us," Zhao said at a recent news conference.
Fei Xiang, the 51-year-old Chinese-American pop icon and veteran singer who has never starred in any mainland film, joins the cast and plays a powerful leader of a mysterious clan.
Yang Mi and Feng Shaofeng, China's Zac Efron and Vanessa Hudgens, who rose to fame by playing a couple in a TV drama featuring time travel, are also part of the star cast.
The director is no longer the first installment's Gordon Chan, but former commercial director Wuershan from China's Inner Mongolia autonomous region.
The 39-year-old built his name in the industry with The Butcher, the Chef and the Swordsman. The refreshing slapstick comedy won over Sanford Panitch, president of Fox International, and Doug Liman, director of The Bourne Identity, who helped with the film's screening in North America in March.
While Butcher cost only 8 million yuan, Painted Skin II is a 150 million yuan project with an A-list cast. But the film's co-producer Chen Kuo-fu is confident about Wuershan.
"He is a very creative director with his own voice," Chen says. "I believe he will become a leading figure among China's new directors."
The filming of Painted Skin II began recently in Beijing, and the film will premiere in 2012.