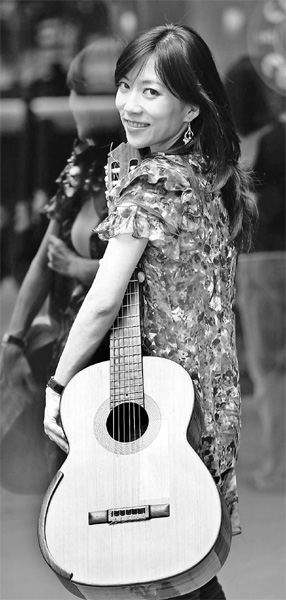 Classical guitarist Yang Xuefei plans to perform more in China after touring 50 countries since her teenage years. Zou Hong / China Daily
Yang Xuefei's experimentation with the classical guitar has made her unique among the country's musicians. Chen Nan reports.
Classical guitarist Yang Xuefei is perhaps the last word on firsts in the country. The 30-year-old was the first to study guitar at a Chinese music school, the first person in the world to win a guitar scholarship to the Royal Academy of Music in London, and the first Chinese classical guitarist to land a record deal and start an international career.
Despite her excitement about the instrument, she appeared stoic when she took the stage at a recent performance with Spain's Gran Teatre Del Liceu Chamber Orchestra at the National Center for the Performing Arts in Beijing.
She rarely spoke between such songs as Romance de Amore and Asturias but rather pulled her hair back from her forehead or flashed a smile at the orchestra.
But the audience was nonetheless wowed - partly because of the impeccability of her technique and partly because the instrument remains exotic in China.
However her stage presence came across, the classical guitarist is enthusiastic about performing in Beijing. And that's after touring 50 countries since her teenage years and preparing for her debut solo performance at the 2011 Edinburgh International Festival this August.
"Everything is going well for me," she says.
"Now that I live in London most of the time, I plan to perform more in China. Although I have a lot of experience playing abroad, I always feel nervous when taking the stage in China and especially in Beijing. It's where I grew up, after all."
She has rarely returned since leaving to study in London a decade ago.
Her reserve melts offstage. Clad in a blue shirt with a floral pattern and black leggings, she energetically talks about shopping for performance gowns and jokes about her different personalities on and off the stage.
Yang says she is inherently lively but has been tamed by classical guitar study.
She still has her first guitar, which her mother bought for her for 20 yuan ($3.10).
"The classical guitar is usually a solitary instrument, partly because the greatest works written for it are in the solo repertory," she says.
"It's soft-spoken and low-profile, so people relate my personality to it."
But it was her restless nature that has driven her passion for the instrument, she explains. And that zeal has translated into success in the face of formidable odds.
"It was all a coincidence or fate," she says.
"I was 7 years old and very energetic - even naughty - and my parents, who were both teachers, felt I should play an instrument to learn obedience."
They originally hoped she would study the accordion, but the instrument was too heavy for the little girl.
So her mother bought a small guitar and enrolled Yang in a class, where the other students were ages 11 or 12.
Her father recorded John Williams' songs from the radio to nurture her musical inclinations.
"I couldn't stop playing because the sound is so beautiful," she says.
While there were boring moments of mastering the techniques, she was overwhelmed by the romanticism of the nylon strings' reverberations.
She gave her first public performance at age 10 at the First China International Guitar Festival and received immediate acclaim.
The Guitar Alliance of Japan gave her a special award after a Tokyo performance, and celebrated Japanese luthier Masaru Kohno presented her with one of his concert guitars.
Composer Joaqun Rodrigo attended her Madrid debut when she was 14 and called her performance "unbelievable".
In 1995, world-renowned US composer John Williams gave two of his own guitars to her conservatory after he heard her in Beijing.
Yang was pleased with the honorifics but worried because the instrument is rare in her homeland, where no school then offered a guitar major.
After six years at the Central Conservatory of Music's subsidiary middle school, she became the conservatory's only classical guitar student.
"I had no classmates," she recalls.
"My classes were taught by foreign teachers, and because they were not full-time instructors of the conservatory, I had to follow their schedules and practice hard on my own."
Other students who studied prestigious instruments, such as piano and cello, didn't respect her instrument.
"They joked, saying, 'How can you be heard onstage when its sound is easily drowned out by louder orchestral instruments?' I had to fight many battles to make a career as a guitarist."
And she faced a home turf disadvantage, she says.
"Many artists succeed in their own countries before making a name abroad. But Chinese artists who play Western instruments have to make a name for themselves in the West. That was a tough journey."
Yang spent much of her time enrolled in the conservatory on the road, and these travels offered many unexpected opportunities.
After obtaining a Bachelor of Arts from the prestigious conservatory, she became China's first guitarist to study in the United Kingdom and the world's first guitarist to receive an international scholarship to London's Royal Academy of Music.
She moved to London in 2000 to study under Michael Lewin, John Mills and Timothy Walker. She expanded upon her international career with many solo recitals and concert performances in the UK and Europe.
EMI Music invited Yang to sign on and helped her release her 2006 debut album, Romance de Amor, which achieved gold disc status. Her second album, 40 Degrees North, featuring Spanish and Chinese music, reached No 2 on the UK's instrumental and chamber music charts two years later.
Her forthcoming album proffers a baroque repertoire.
She also recomposes traditional Chinese folk songs and cooperates with artists on crossover projects.
"My ability is still evolving, so I am curious to see where it will take me," she says.
Yang says that on the road she listens to all kinds of music - except for guitar pieces. The breaks from the instrument keep her fresh, she believes.
"I didn't choose the guitar. It chose me," she says.
"But I've loved playing it from the start. If I had it all to do over again, I would definitely still choose the guitar."