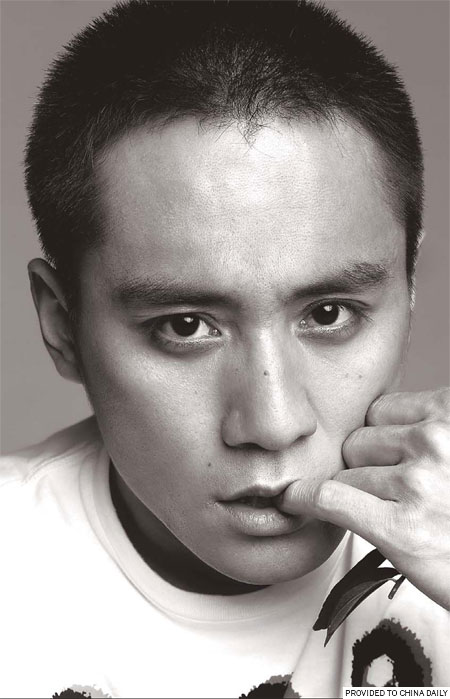 Young actor Liu Ye will play a 20-something Chairman Mao Zedong in an upcoming film and says his role will break the stereotypical image of the Great Helmsman. Liu Wei reports.
Young heartthrob Liu Ye, 33, will play Chairman Mao Zedong in the upcoming movie, The Founding of a Party, a tribute to the 90th birth anniversary of the Communist Party of China. The movie, to be released on June 15, has been in the spotlight ever since its filming began in August 2010.
Directors Han Sanping and Huang Jianxin have boldly cast young idols, such as Liu, Chen Kun and Chang Chen, to play Mao, Zhou Enlai and Chiang Kai-shek.
With a budget of more than 70 million yuan ($10.7 million), the film features a stellar cast of at least 100.
But in China, playing Mao is not simply about acting skills.
In 2010, 53-year-old actor Zhang Tielin found himself in the hot seat when people found he had taken British citizenship at the time he was scheduled to play Mao in a forthcoming TV drama.
Some of his Internet attackers said it was not appropriate for someone who had given up his Chinese citizenship to play the founder of the republic.
In the 1970s, anyone playing Mao had to be politically correct and submit to family background checks.
While such checks are no longer required, the actor must still not be tainted by scandals or have played such roles as that of a traitor.
Liu knows the job at hand is a tough one.
"When I was 5 I had a serious discussion with my sister about whether Mao used the restroom, like the rest of us," he says. "He is held in such esteem that many people cannot form an objective opinion of him."
But the optimistic young man wants to give it a try.
"I see it more as a challenge than pressure," he says. "I am confident about both the authorities and audiences, which I think are more open than before."
He knows he looks like Mao. He used to wear his hair long, and once when he pulled his hair back after taking a shower, he almost screamed upon catching a glimpse of himself in the mirror. Some of his friends even called him "chairman".
In fact, it was one of them, director Lu Chuan, who recommended him to Han Sanping, co-director of the movie.
But Liu has never essayed the role of a political leader. The good-looking actor has played postman, prince and policeman but never a politician.
For the upcoming film, he did his homework, which included reading Ross Terrill's biography on Chairman Mao. He also took to heart an excerpt describing how Winston Lord, special assistant to Henry Kissinger, sensed Mao's strength of will as soon as they met in 1972.
"I am convinced that if I'd never met the man, didn't know who he was, and I walked into a cocktail party at which he was present, he would draw me to him by his power," the book quotes Lord as saying.
Liu went through pictures and documentaries to form his own impressions about the powerful statesman.
"At meetings, he is often not fully concentrating," Liu says. "He seemed to listen, while thinking of something else. He thought big."
Liu has seen films and TV dramas about Mao and is familiar with the stereotypical image - a confident man who always has everything under control and likes gazing into the distance, a cigarette held between his fingers.
"I just cannot act like that. It's very artificial," he says. "Today's audiences want to see a real person, a vivid one that they can relate to."
In the film he plays a 20-something Mao, seldom portrayed before. Liu says he wants his character to capture what today's young audiences share with the youthful Mao, such as the pursuit of dreams, career ambitions and the yearning for love.
"From the very beginning, I've been told this film has to win over audiences," Liu says. "I am happy to see the change in patriotic films. Filmmakers now understand that if you want to convey a message in a film you must first make people want to see it."
In the film, which revolves around the founding of the Communist Party of China in 1921, Mao is a charming young man enthusiastically exploring a path for the country out of the chaos following the end of imperial rule.
Unlike in previous patriotic films and TV series, Liu's Mao is slim and does not smoke. When the farmer's son first arrives in Beijing in 1918 after a long trek from South China, he is expelled from a classroom in Peking University for his shabby clothes.
He works as a librarian in the university and dates Yang Kaihui, later his wife. There are scenes dealing with their romance that bring to mind South Korean TV dramas and their romantic storylines and dazzling settings.
On a New Year's Eve, when Yang accompanies Mao on his nightshift in the library, there is a burst of fireworks outside. Mao hoists Yang up on his shoulders to see them.
"I am prepared for the controversy over my performance," Liu says. "Some elderly people, who are used to the old-fashioned portrayals of the leaders, may dislike me. But I believe young people will bond with my role."
This is the only time he will play Mao, Liu says, but denies it is because of the pressure or challenges.
"It's been a very exciting experience, but Mao is such an influential character that if I play him again and again, I might get stereotyped," he says.
"As an actor I want different roles."