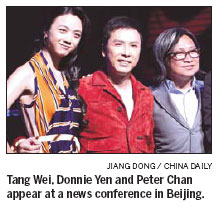 Even as rumors spread that scenes of Tang Wei in The Founding of a Party have been cut because of her appearance in Ang Lee's sexually explicit Lust, Caution, the actress showed up in Beijing to promote another one of her films.
The 32-year-old star plays a mother for the first time in Wu Xia ("martial arts chivalry"), an action film directed by Hong Kong's Peter Chan. At a news conference on May 20, the press was directed to ask only those questions that pertained to Wu Xia. Tang was even stopped from responding to a question on how she felt about being back in the mainland film scene, by an employee of the production company.
She did not respond to the rumors about her cut scenes in the film that is a tribute to the 90th birth anniversary of the Communist Party of China, even at the just-concluded Cannes Film Festival, where Wu Xia was screened.
In The Founding of a Party, she plays Tao Yi, an early girlfriend of Mao Zedong.
Tang has been keeping a low profile after playing a student-turned-spy in Lust, Caution. The film's depiction of sex and traitors stirred up much controversy. It is said she was blacklisted by the authorities, but there has never been any official confirmation of that.
She did not star in any Chinese film again until 2010, when she played a saleswoman in a small-budget Hong Kong film, Crossing Hennessey.
Wu Xia is Tang's fourth Chinese film in four years, in which she supports the two lead actors Donnie Yen and Takeshi Kaneshiro.
"I was totally lost at first, having no idea how to play a mother," she says about her role. "But I learned a lot from Yen, who is a caring father. He told me that the point is to show your attention, to listen to the children."
Although she has no fight scenes in the film, Tang says she hopes she can try action films some day.
"I have been fascinated with swords and guns since I was a little girl," she says. "I even dreamed of being a soldier. I hope I can fight with Yen in future films."
Set in 1917 in a small village in South China, Wu Xia is an attempt by Chan to rework the Chinese martial arts film genre.
"We have seen many gravity-defying scenes in previous martial arts films, but this time I make the characters down to earth," he says. "We will explain martial arts from a physiological and medical viewpoint."
The film will premiere on Aug 3 in China. The Weinstein Company, which distributed The King's Speech, has acquired its worldwide distribution rights, barring Asia and French-speaking Europe.