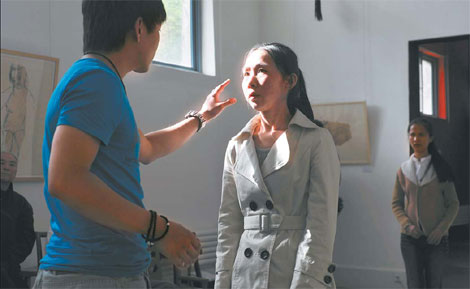 Wang Juan receives guidance during a rehearsal of La Princesse Maleine at the Nine Theater. Yan Li / For China Daily
When nine blind people stagger onto the stage hand in hand and move awkwardly into position, it is a struggle to believe this is actually the opening of a classic French play. But when the actors begin to recite the lines from Belgian Nobel Prize-winner Maurice Maeterlinck's La Princesse Maleine, their voices produce such a heart-rending tone that helps the audience to feel the misery and confusion caused by a life spent in darkness. In an interview with METRO after a rehearsal, some of the cast and crew with the blind acting troupe explained how their lives have been just as dramatic as the characters they portray on stage.
Brave girl
Li Luyao is an impressive 21-year-old college student. Smart and articulate Li can perfectly gauge someone's feelings during a conversation by listening closely to the tempo of their speech and by making a kind of eye contact.
What is sad is that an otherwise delightful young woman is blind. Perhaps because of this physical defect, Li is more eager to impress with her charming personality.
"I think because as blind people we don't see all those disturbing and distracting things in the world, we can remain clearer about what life is all about," she said. "But never should you think that therefore we are open and cool. The natural condition of a blind person is negative."
Li seems to be a brave and happy girl, although her life story would upset anyone who heard it.
Li suffered a serious fever when she was 14. The illness, a side effect of her parents' divorce, robbed Li of her sight. As well, when Li's father quietly disappeared from their lives, her mother fell into a depression that was so bad she threatened several times to jump off a building.
"People always ask me when and how I accepted that I had become blind," Li said. "I didn't overcome that difficulty myself. It was just that I faced an even harsher reality: I was weak at that time, but my mother was even weaker. I had to take over the responsibility of running the family."
Three years later, after a new marriage helped her mother recover, Li decided to leave home so her mother would feel more able to have another child.
Li is proud that since then she has been financially independent thanks to a series of jobs she has had in Beijing. The most unexpected job was her appearance as an actress in the restaging La Princesse Maleine, written by Maurice Maeterlinck in 1889. The play is about a princess called Maleine, who is caught up in a love-hate situation after falling love with a prince from an enemy country. Li had expected to play Maleine but ended up playing the prince. "Maybe the director discovered that I actually have a tough personality, so he let me play a male role," Li said.
Grateful writer
Teng Weimin, 56, is the only one in the troupe who had any experience of the theater. He grew up watching plays at the Beijing People's Art Theater, and that inspired him to write his own story.
After he lost his sight through a rare disease at the age of 25, Teng began to write and eventually published two autobiographical novels.
In 2008, he and some other blind people were invited by renowned Chinese drama director Lin Zhaohua to act in The Blind, another play by Maeterlinck, which tells how blind people trapped in an isolated forest realize that only they can save themselves.
A real drama threatened to isolate the blind actors: some theater professionals who saw the blind actors' presence on the stage as an insult to the profession tried to stop the play.
At one point, Teng said, the production company withdrew its investment. The blind actors were told they would be compensated, but Teng refused.
"They could compensate us for the wasted time, but they could never buy our dignity," he said.
Fortunately, all's well that ends well. Director Lin invested in the play and the actors proved they had talent.
"People were very touched. A girl who gave me a bunch of flowers said her aunt and mother cried during the performance. And taxi drivers drove us home for free," Teng said.
"Of course, I should thank director Lin. During the two months of rehearsal, he was with us every day. I hope he will always live in the light."
Professional director
For Jean-Christophe Blondel, the French director of La Princesse Maleine, these blind amateurs are not the same as actors he usually directs.
"They are not as fast," he said. "They don't think first about all that's behind the text. We start from zero with each of them, but this clean slate offers us an opportunity; it makes them totally open to any experience."
Because La Princesse Maleine portrays life as "a tragicomedy full of wanderings, misunderstood signals, missed opportunities and injustices", Blondel thinks it echoes the life experiences of the actors. And this is why he decided to use blind actors, despite the many difficulties that created.
On the positive side, these blind actors have displayed qualities that choreographer David Brandstaetter believed not many professionals possess. For example, they all have a good sense for sound and music.
"That skill inspired us to construct acoustic atmospheres to support the production," Brandstaetter said.
Liu Yujia, the only professional actor in the play, saw another advantage. "They are good at listening so they always react to each other's lines. Professional actors seldom listen carefully to other people's lines, but for an actor listening sometimes is even more important than acting."
But the most important quality these blind people have revealed is that they trust their production team.
"A real present they give us is thatthey really trust us," said Brandstaetter. "Sometimes we challenge them a lot and it is great to see how much they are willing to invest and investigate. It is very touching for us that the blind actors do not see what they create yet they are still so dedicated."