The day I took flight, on an ostrich

In terms of time, BC - before China - there were many things I never expected I'd do; each expat has his or her favorite story. Mine is the day I perched myself on an ostrich's back.
On my third weekend in Zhengzhou, Henan province, I found myself in an ostrich farm, or more accurately, a rural outcropping resembling an adventure park an hour outside of Zhengzhou proper.
My tip had come from a little blue book passed down from the previous teachers at the school where I teach in Zhengzhou. There was not much by way of tourist information there, but on the list of the city's attractions, the ostrich farm ranked No 2 and cost 40 yuan ($6.15).
We bumped along a small road until a white wall, adorned with dinosaurs, popped up. As soon as the cab stopped, hawkers hastened toward us with their wares: plush ostrich dolls, neon bright ostrich feather boas and, of course, etched ostrich egg shells. I didn't dare ask the price.
Yet surprisingly, the place was a full show, even if it lacked people. There were Bumper Karts, a rock-climbing wall, ATV riding, duck boating, "grass skiing", as well as a zip line. But I was there for the ostriches.
We started by feeding them. We pulled up to the dirt pen in a golf cart; inside there were hundreds of young ones, all in the space of a basketball court. A flock of 10 sauntered over as they jabbed their fist-sized heads toward us.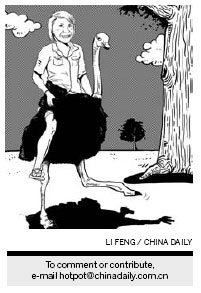 They scared me. Especially with their beady eyes and feet that ended in two talons. I could understand the connection to the days of the dinosaurs. I imagined Jurassic Park, though I had yet to finish the movie - too scary, I had thought as a child.
Of course, next, we shouldn't have eaten them, but we did. It was past lunchtime and I was hungry. We walked to a spot under the trees, complete with squat stools and dirt. The highlights were charred ostrich on a stick and ostrich eggs with tomato. We finished it off with a round of beer, two for those who needed it for the final act - what we had really come for - to ride the ostrich.
We had been gearing up for it all day. The rest had been a charade, an act to summon up the courage. I knew I would regret it if I didn't ride one. Where else can you get on an ostrich for 10 yuan? Yet doubts lingered and only intensified as I watched a friend ride one.
I soon discovered it's a terrifying 20 seconds. You mount the bird like a horse, but there are no reins, just grimy feathers to take hold of.
The Chinese man corralling the enclosure clearly sensed my fear. Upon his command of the bamboo stick, flick, flick, fliiiiiiiiiick, the ostrich took off. I yanked hard on its coarse feathers and shrieked. Even if this one was old and looked particularly lazy, an ostrich isn't slow. At top speed it can hit 64 kmh, even at an average weight of 160 kg.
Time for my obituary, I thought. The beak would be attacking me any moment.
But I lived to tell this tale. The bird did careen its head 160 degrees to glare me in the eye in a last standoff, but moments later it all ended and surprisingly I was unscathed - at least physically.