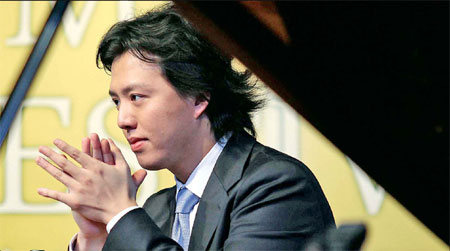 Pianist Li Yundi teaches a master class in Beijing. Jiang Dong / China Daily
Related video: Exclusive interview with Li Yundi
Li Yundi promises an all-Chinese piano program for 2011, saying he wants to take his music to cities across the nation. Mu Qian reports.
Since becoming the youngest winner of the International Frederic Chopin Piano Competition 11 years ago, Li Yundi has been portrayed by media as a poetic pianist with a Chopinesque temperament. But at a recent performance in Beijing, Li showed he also has a Lisztian fervor. He impressed with the composer's Piano Concerto No 1 in E Flat Major that he played together with the National Center for the Performing Arts (NCPA) Concert Hall Orchestra. The concert opened the NCPA series aimed at commemorating the 200th birth anniversary of the Hungarian composer.
"Chopin's music is introspective and graceful, while Liszt prefers to express his feelings through fortissimo sounds and gorgeous technique," Li says.
"If playing Chopin is like adventuring in the sea, playing Liszt is like climbing a cliff," he says.
"Both composers have given birth to great musical works that I enjoy playing very much," he adds.
Li's road to success has been linked to both composers. Before he won the Chopin Competition in Warsaw in 2000, he took Third Prize at the International Franz Liszt Piano Competition in Utrecht, Netherlands, in 1999.
At the recent NCPA concert, Li played both Liszt's piano concerto and Chopin's nocturnes, displaying his skills in interpreting the works of both.
However, what further showed his versatility were the encores. In a Faraway Place and Colorful Clouds Chasing the Moon, two Chinese folk tunes that were a sharp contrast to the Western Romantic works, won him the most applause.
These pieces were not his casual choices for the night though, but part of a big project that he has undertaken for the year.
"This year will be my Chinese year, as I will devote myself to performing Chinese works and touring in China," Li says.
In 2010, Li gave some 90 concerts of Chopin's works around the world to commemorate the 200th birth anniversary of the Polish composer. In 2011, he will hold more than 60 concerts in China, with an all-Chinese program.
It will include the Yellow River Piano Concerto, one of the best-known Chinese piano works, that premiered in 1969; Autumn Moon on Peaceful Lake, a piece of traditional music from Guangdong province; and Liuyang River, a folk song about Mao Zedong from Hunan province.
"There are many great Chinese music works, and I think now is a good time for me to promote them among music lovers at home and abroad," Li says.
While some Chinese songs have already been adapted into piano works, others are awaiting composers' arrangements. Li says he will probably do some of the arranging himself.
"Actually, I'm already participating in the arranging, as I improvise while playing In a Faraway Place during a concert," he says.
Li is also planning an album of Chinese piano works titled "red piano", to be released later in 2011 by EMI, with which he has an exclusive recording contract.
"Red is the signature color of China. Our national flag is red, and during the New Year all Chinese wear red clothes. It's a lucky color," he says.
Li says his idea of playing Chinese works is inspired by Chopin, with the composer's patriotism influencing Li to express his love for his country and promote Chinese culture to the world. "Although it's a challenge for me, I'm very excited and looking forward to playing Chinese music. It's for both the elderly generation and my peers," he says.
Li's 2011 tour will cover many Chinese cities, including medium-sized and smaller ones. He will also perform in his hometown Chongqing, where "red songs" are being promoted by the municipal government.
"I think this can help people memorize the classics of China. In any era, people of every generation, including youngsters, should try to study the classics," he says. "I have been very passionate about my motherland since childhood, and I want to win glory for China everywhere I go. I think it's an honor for me to express my love for my motherland through playing Chinese music works on my piano."
Born in 1982 into a family of non-musicians, Li began to study piano at 7, older than the age at which other piano prodigies got started. Under the tutelage of well-known piano teacher Dan Zhaoyi, he began to receive top awards at various competitions from the age of 12. After he became world famous by winning the Chopin Competition, he studied with pianist Arie Vardi in Germany from 2002 to 2007.
"Dan injected in me the sensibility of the Chinese, while from Vardi I learned about freedom and creativity," he says. "I'm trying to combine in my performances what I've learned from these two great teachers."
Piano is one of the most popular instruments in China, and reportedly 30 million Chinese children are learning to play it, many under the influence of Li and Lang Lang, another renowned young Chinese pianist.
Besides performing, Li has conducted a series of master classes around the world, the most recent one in Beijing before the NCPA concert. He is impressed by many Chinese children's piano techniques, but at the same time advises that they pay more attention to the meaning of music.
"The most important thing is when children start they should take their time, and not rush through it. Music and art can never be rushed," he says. "You need to relax, get into the music, into your performance. That's what I have done since I was a child."