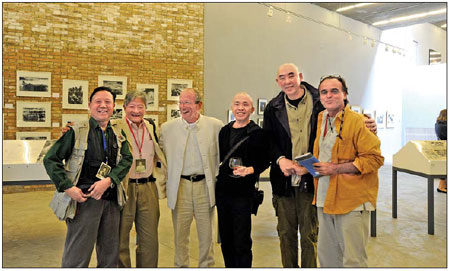 Participants in the 1988 Arles China Exhibition, including photographer Chen Baosheng (far left) and curator Karl Charles Kugel (far right), reunite on April 25 at Three Shadows Photography Art Center in Beijing for the exhibition's reappearance during the Second Caochangdi PhotoSpring Arles in Beijing. Photos Provided to China Daily

From left to right: Art works by artists of PhotoSpring Arles. Trouble Ahead by Chen Baosheng; Treasures under the Streetlights by Xia Yonglie; Reading Newspapers by Xia Yonglie.
Eyes fixed on photographs on a gallery wall at Caochangdi, the artists' village on the outskirts of Beijing, 72-year-old veteran photographer Chen Baosheng's mind was lured away to a small French city named Arles, where more than 20 years ago his life underwent a significant change.
Chen has more than 200 photography awards, including more than 100 from overseas to his credit, but all this might not have happened if he hadn't welcomed a foreigner who suddenly showed up at his home in 1988 in Shaanxi province offering to exhibit his photos abroad.
Before he knew it, Chen's photos were shown at the international photography festival known as Les Rencontres d'Arles (the Meetings of Arles) where this middle-aged Chinese man who had never been abroad was amazed by an unexpected cultural landscape of 15 exhibition spaces displaying an astonishing diversity of photography.
Founded by French photographer Lucien Clergue, historian Jean-Maurice Rouquette and writer Michel Tournier in 1968, Les Rencontres d'Arles is now the world's most important photography event, with a stated aim of displaying international photography and discovering young talent.
Fearing the worst, Chen was surprised to see that his 20 photos, including nine of horses and seven of the Yellow River, made a stir at the prestigious event. Local newspapers dedicated whole pages to singing his praises and soon after his photos appeared an American asked to buy 12 of his horse photos for $5,000, a stunning amount for a Chinese at that time.
Most comments about Chen's photos described them merely as "different". His interpretation was that the vitality of the galloping horses and the roaring water were symbols of a big country opening up to the West.
Karl Charles Kugel, who was the China photo collector for the 1988 Arles event, was going through 1,000 photos an official in Xi'an had passed on to him when, among the mostly mediocre ones he came across Chen's horses. He said they were like a blast of sunshine in a dark room. "It's hard to describe. But they were so different," said Kugel, who immediately decided to go to Chen's hometown, a city he couldn't even find on a map.
Now, at an exhibition, titled Reappearance, at the Second Caochangdi PhotoSpring - Arles in Beijing, a three-year partnership between the two countries, Chen's 20 photos are once again on show as part of a restaging of the now quasi-mythical original 1988 Arles exhibition, which marked the first encounter between the French public and Chinese photography.
Francois Hebel, current director of Les Rencontres d'Arles, was one of the organizers of Reappearance, which features several other Chinese photographers who were invited to Arles in 1988 with Chen, such as Wu Yinxian, Xia Yonglie, Ling Fei and Zhang Hai'er.
Apart from Wu, who is dead, these photographers reunited at Caochangdi after more than 20 years.
Berenice Angremy, director of Caochangdi PhotoSpring, noted that older work does not necessarily have to be seen as a memorial or as a source of nostalgia.
For Hebel, Reappearance will serve as a way to assess the changes in modern Chinese photography.
"It's very rare that old photographers move to the digital thing and change their vision, but these ones have done it. They have kept up," he said.
"They really know how the country is moving and what the hottest issues are; they are actually at the center of the world," he said.
For the past 10 years, Angremy wrote in the exhibition catalogue, photography in China has become a strong component of the cultural landscape, and the public has now become quite passionate about the medium. Last year, according to her, some 30,000 visitors came to Caochangdi PhotoSpring - Arles in Beijing.
This year they are returning to see dozens of high-quality exhibitions at various galleries in the village. There are some world-class shows, such as the Photographic Scrolls by Eikoh Hosoe, Japan's most internationally renowned photographer whose best-known work was the 1963 collection Ordeal by Roses (Bara-kei) that featured famous writer Yukio Mishima.
"If this second edition of Caochangdi PhotoSpring - Arles in Beijing encourages the public to look at photography, ponder its heritage, its sources and its future, welcome its surprises and take its time to enjoy photography, we will have met our goal," Angremy said.