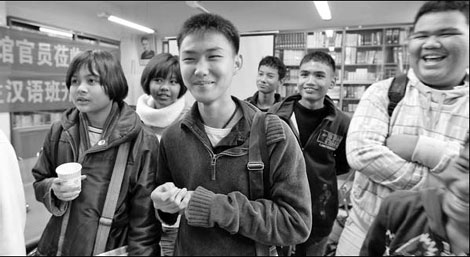 Increasing numbers of Laos students are studying Chinese. Zhang Tong / For China Daily
Ben Kong recently won first prize in the "I Can Speak Chinese" competition, held in Yunnan, with a speech titled "Chinese language enables me to fly".
Fourteen Lao students took part in the competition in Mengla county, bordering Laos, on April 9.
They were chosen from Lao students studying at Xishuangbanna Dai autonomous prefecture, in Southwest China's Yunnan province. More than 500 people, including students, teachers and local residents, watched the competition.
The rivalry was fierce and some of the Lao students could make better speeches than Chinese students, as they used similes and gestures to arouse the emotion of the audience.
The 19-year-old Kong has been studying Chinese for two and a half years and wants to be a translator after graduating in June.
Kong is interested in Chinese history and culture and says it will be easier to find a good job in Laos after studying in China.
"I am introvert and didn't have the confidence to participate in the competition, but my teacher encouraged and coached me. Now I am confident of my Chinese," Kong says.
Pu Lingli, a 32-year-old Chinese teacher at Mengla Vocational Higher School, has been teaching the language for more than nine years.
"Currently, the school has nearly 40 Laos students learning Chinese. The school is expected to help more Laos youngsters learn the language and the culture of China, as the development of Sino-Laos ties needs a large number of bilingual specialists," she says.
"More Lao people have come to study Chinese recently, especially after the Kunming-Bangkok highway was built. Those students can work as translators and tour guides when they return to Laos," Pu says.
Mi Mi, a 16-year old Lao student at Mengla Vocational High School has studied Chinese for about three years. She comes from north Laos' Lang Prabang province, where many Lao people do business with China. Her father imports corn and sesame from China, so she wants to help him with his business after learning Chinese.
It is difficult to learn Chinese idioms, Mi Mi says, recounting the time her classmates asked their Chinese teacher what the topic of their final composition was. The teacher declined their request and Mi Mi asked whether this was because of "dacaojingshe", which means "acting rashly and alerting the enemy." Her teacher responded: "So, you think I'm the enemy?"
The Chinese contest is part of a youth exchange program held by the Central Committee of the Communist Youth League and Yunnan provincial government to celebrate the 50th anniversary of diplomatic relations between China and Laos.
Yunnan province and Laos share borders and a similar landscape, climate and way of life. There has been increasing trade, tourism, education and culture exchanges between the two.
"It is profound to hold exchange programs in Yunnan because it will strengthen Sino-Laos cooperation and strategic relations," says Lu Ping, deputy secretary of the Yunnan Provincial Communist Youth League.