Honored as the "Shakespeare of the Orient," Cao Yu was one of the greatest playwrights of 20th-Century China.
Throughout the month his classical plays have been staged to commemorate his life's work. Let's recall the late dramatist and his stage art.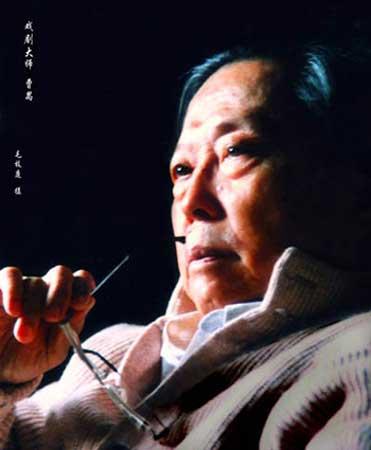 Honored as the "Shakespeare of the Orient," Cao Yu was one of the greatest playwrights of 20th-Century China.
Beijing People's Art Theatre, also known as Renyi where Cao was the first director in 1952 when the theatre was established, kicked off the series of performances with "Sunrise."
"Sunrise", Cao Yu's second play, was published in 1936. Following his first work "Thunderstorm," he continued his thematic treatment respecting an individual's progressive moral degradation in the face of a hostile society. In it, the tragedies of Chen Bailu, a Shanghai courtesan and people around her are narrated. The story shows their lives disintegrating in response to lack of affection and of acknowledgment by the society surrounding them, leading them down a tragic path from which they cannot escape.
It's hard to count how many times Cao Yu's plays have been adapted and staged. His writings have become the standard, and the messages his works convey are pervasive and eternal.
Lan Tianye, actor, said, "Cao Yu's plays are the nutrition for all the dramatic artists of New China. I don't know an actor who has never played a role in Cao Yu's dramas. I still remember that 66 years ago when I was 17, my school mate Su Min, who is now a renowned playwright of Ren Yi, asked me to play the first drama in my life. And it was "Sunrise.""
Born as Wan Jiabao, Cao Yu's hometown was in central China's Hubei Province. When he was still an infant, his family moved to Tianjin, a northern city with a strong western influence.
Cao Yu was first matriculated at Nankai University's Department of Political Science, but transferred the following year to Tsinghua University, where he studied until graduating in 1934 with a degree in Western Languages and Literature. During his university studies, he improved his abilities in both Russian and English, and his course of study required reading the works of western and Russian authors, as well as translated works of classic Greek writers.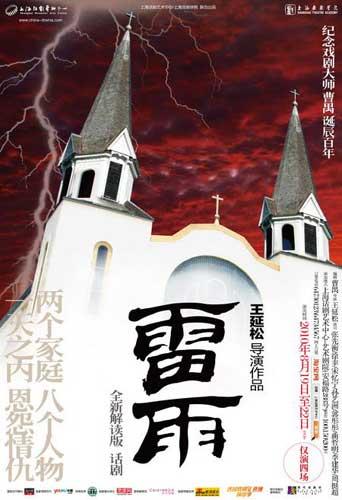 The play "Thunderstorm", garnered Cao Yu critical success and popularity on the international stage.
This immersion in western literature would mark Cao Yu's style in all writing genres including the "spoken theatre", which had had little tradition in China prior to Cao Yu's influence. During his last year at the university, he completed his first drama, "Thunderstorm", which would mark a milestone in Chinese theatre of the 20th century.
The plot of "Thunderstorm" centers on one family's psychological and physical destruction as a result of incest, as perpetrated at the hands of its morally depraved and corrupt patriarch, Zhou Puyuan. The play garnered Cao Yu critical success and popularity on the international stage.
In 1937, the young playwright's third play, "The Wilderness," was released. The script was influenced by O'Neill's expressionist works and relates a succession of murders and stories of revenge.
In 1940, Cao Yu completed the writing of his fifth play, "Peking Man," considered his most profound and successful work. Set in today's Beijing as its name implies, the story chronicles the history of a well-heeled family that is incapable of surviving and adapting to social changes that are destroying the traditional world and culture in which they live.
Qiu Xiaogang, actor of "Peking Man", said, ""Peking Man" is the least staged of all Cao Yu's dramas. Over half a century has passed, but the structure, content and dialogues of the play are still very realistic and inspiring."
After the founding of the People's Republic of China in 1949, Cao Yu took on the role of director of Beijing People's Art Theatre - a role he would remain in for the rest of his life.
His constant career companions, friends and family members expressed their reverence.
Zhang Heping, director of Beijing People's Art Theatre, said, "We are here to remember the first director of Renyi. It is all for three main purposes. One is to commemorate Cao Yu; second is to re-stage his classical plays and put them in the theatre's repertoire; and third is to establish a moral criterion of Chinese stage drama, that is, dispel utilitarian and vulgarism and produce pure-hearted and profound plays."
Zhu Xu, actor, said, "We knew each other over half a century ago. He was a very amiable man, our brother, a great leader and companion that pushed the theatre to a pinnacle, a man who survived those stressful years with us. It's hard for me to portray him in words."
Wan Fang, Cao Yu's daughter and dramatist, said, "A century is such a long long period. It's a miracle that my father is still remembered, admired and inspiring others today, even though he has left the world for 14 years. I think it is all because his works are a sharp and profound reflection of people and the reality. Renyi is like a huge magnet that allures all the drama lovers and practitioners, including my father. And the center of the magnetism is the stage. I believe my father's soul has always accompanied the theater and I can feel he is here tonight with us."
Cao Yu's manuscripts, letters, playbills, translated works, and some of his personal objects are now on display at Ren Yi, to help people get closer to the man. And his bronze bust, bestowed in the theater hall along with the other two co-founders of Ren Yi, author Lao She and director Jiao Juyin, pores over all the changes of his beloved theater and audiences, year after year.