Oscar films for first Beijing film gala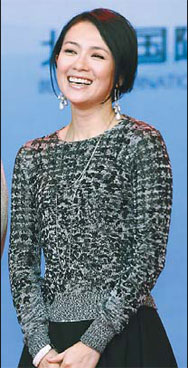 Zhang Ziyi has been named an ambassador of the first Beijing International Film Festival. Provided to China Daily
China imports only 20 foreign films for theatrical release every year, but filmgoers will see some of the latest Oscar-winning and nominated films thanks to a film gala to be held in the county's capital.
Organizers of the first Beijing International Film Festival say they will screen The Social Network, Black Swan, 127 Hours and True Grit in the festival's "Film Panorama" section, a showcase of about 100 foreign films.
They will also invite filmmakers of the four smash hits, never screened in Chinese theaters, to attend the festival, which will kick off on April 23 and last six days.
Zhang Ziyi has been named an ambassador of the first Beijing International Film Festival. Provided to China Daily
John Stevenson, director of Kung Fu Panda, and John H. Williams, producer of the Shrek series, will attend the festival, according to Sohu.com, the festival's official website partner.
Zhang Ziyi, from Beijing, along with Jackie Chan, will be the festival's ambassadors.
"I was in Los Angeles 10 days ago when I got the invitation to be ambassador," Zhang says. "Many friends there wanted to attend the festival. They all know how China's film industry has boomed in recent years. We need such a platform to better communicate with international filmmakers."
There will be no awards at the festival. Highlights include a dialogue between Chinese and international filmmakers, a forum on Chinese-European co-productions, a meeting of 15 chairpersons of international film festivals, and three academic seminars.
Due to the absence of a rating system in China, some films may need to be edited, said an official at an earlier press conference when asked about Black Swan's sex scenes.
"If certain footage needs to be edited and the studio agrees, we will try our best to screen the film," says Liu Chun, an official of the State Administration of Radio, Film and TV (SARFT), the country's top regulator of the industries.
China's film industry has grown rapidly. Box office revenue reached a record 10 billion yuan ($1.47 billion) in 2010, rising by 35 percent annually since 2003.
Initiated by SARFT and the local government of Beijing, the festival marks the first major international film event held in the city, which boasts 80 percent of the country's film studios and filmmakers, and contributed nearly one tenth of the national box office revenue in 2010.
The most influential film festival in China is the Shanghai International Film Festival, which will start its 14th edition in June.