Eating well helps others
Sunday is supposed to be the slowest night of the week for Beijing's restaurants.
Yet, at least one Sunday a month, one lucky restaurant is filled with customers as part of a dinner series organized by the BJ Foodies club.
The premise is simple: sample gourmet cuisine at a hip Western restaurant for a reasonable price, mingle with friends and meet new people, and if the spirit moves you, donate as much money as you want to the featured charity.
"Our main goal has always been to find a good restaurant and pack it with people. We then use that as a platform to help a good cause," said BJ Foodies founder Xixi Cheng.
She organized what would become the first BJ Foodies dinner in 2008 after the massive earthquake in China's Sichuan province that May.
"I felt it all the way in Beijing at my 22nd-floor office. We stopped working for a little while to keep up with the news from Sichuan," she said.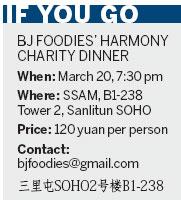 Determined to help out, she contacted one of her favorite restaurants, Tao on Lucky Street, picked out dishes for a 100-yuan set menu and invited her friends to attend. She initially expected 15 people to show up, but in the end there were 40 who donated 8,000 yuan to the earthquake relief efforts.
"It was supposed to be a one-off event," said Cheng, "but people kept coming to me about planning another. It grew from there."
Since then, BJ Foodies has grown mostly through word-of-mouth into outings that attract more than 100 people. For 100 yuan per person, attendees can sample a five-course menu at a fine dining restaurant and enjoy a free glass of wine. Setting the price at that amount allows restaurants to reach out to a broader range of diners, and motivates them to be creative with the dishes they serve, said Cheng.
"BJ Foodies acts as a kind of a middleman between the restaurant and customer," said Jim Boyce, a nightlife blogger who has attended several of the group's events. "They give people the opportunity to try a place that is normally too expensive for them."
Martin Standley, manager of the Kro's Nest, which hosted BJ Foodies' Valentine's Day dinner in February, explained that the events help showcase a venue's food and service.
"We're very careful about the menu. We took our basic recipes and added a gourmet twist, without being pretentious," he said. On that menu was heart-shaped pizzas, curly fries with a chili kick and rocky mountain road rice crispy treats.
Those who attend the events also respond to the dinner's emphasis on charitable giving.
"Going to a BJ Foodies night is a fun and easy way to meet people and learn about new restaurants and non-profit organizations," said regular Alice Chen. "There aren't a lot of volunteer opportunities in Beijing, so these dinners are a good way to learn about ones that interest you."
Attendees can also opt out of the charity aspect if they so choose. None of the 100-yuan admission fee goes to the featured charity. Instead, a representative introduces their cause and interested guests place as much as they want in an envelope on the table.
"Our goal is to encourage people to indulge for a good cause and to encourage this with clear intentions," explained Cheng. "There are so many charity dinners that don't encourage any connection with the charity. We want people to give because they truly believe in the cause."
By the end of each dinner, donations usually amount to several thousand yuan, proving that the BJ Foodies formula of encouraging charity during a fun night out truly pays off.
The next event takes place this Sunday at SSAM, a Korean restaurant in Sanlitun SOHO. The charity will be Children of Madaifu, which is an NGO helping orphans, abandoned children and street children in deprived areas of China.
China Daily
(China Daily 03/15/2011)