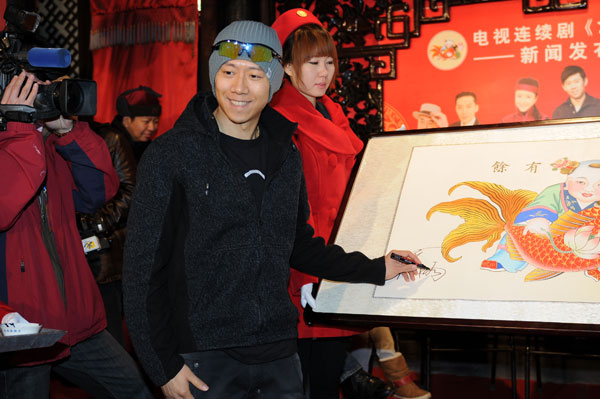 Xia Yu, and director, Kin-lun Lam, give the final touches to a Yangliuqing new year's painting "Nian Nian You Yu" at the launching ceremony of the TV drama, "Yangliuqing," Tuesday, March 1, 2011. [Photo:CRIENGLISH.com]
Chinese mainland actor, Xia Yu, will take the leading role in the Hong Kong director, Kin-lun Lam's upcoming period drama, "Yangliuqing".
Actors Xia Yu, Hou Tianlai, Cao Lei and Li Qian along with director, Lam, attended the launching ceremony that was held in Yangliuqing Town, Tianjin, on March 1, 2011.
Set against a backdrop around the years of the 1911 revolution that ended China's more than 2,000 years feudal society era, the drama revolves around the life of two generations of the Fang family, which thrives on Yangliuqing's new year painting.
Xia Yu plays the second son of the Fang Family, who takes over responsibility to run the family in turbulent times and becomes the successor of the painting art.
"Yangliuqing" derives from the name of the ancient town in the west of Tianjin, which is famous for the art of nian hua, or wood-lock painting for the Chinese lunar new year that dates back over six hundred years.
This is the first time to produce a TV drama focused on this theme. Xia Yu said he hopes to learn something new from it.