Zooming in on needy children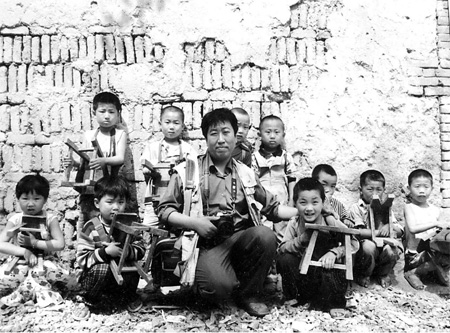 Liu Xiangyang poses with children in a remote village in Hebei province. For the past two decades, Liu has photographed many children from poor families and helped them receive donations. Provided to China Daily
Liu Xiangyang has been photographing kids from poor families for more than 20 years in order to draw attention to their plight. Sun Li reports.
Liu Xiangyang says Children's Day is his busiest time of the year. Every June 1, the 43-year-old photographer in Quyang county, Hebei province, visits the county's villages, looking for the people he photographed as kids.
For the past two decades, Liu has photographed more than 400 children from poor families. Most of them could not afford school and some of them were burdened with the treatment costs of diseases.
By publicizing the portraits, Liu successfully drew public attention to the needy families, helping about 100 children receive donations and solve their problems.
Liu, from a farmer's family, says he can understand the difficulties of children in rural areas better than most people.
The first child that Liu helped was Li Wei, a small boy he found weeping at the gate of a primary school, when he went to a remote village to take scenic photos in 1986.
Liu asked Li why he was crying and the 7-year-old said it was because his father had passed away, his mother had ditched him and his only relative, his grandma, could no longer pay for his schooling.
"The child's sad experiences struck a powerful psychological chord within me as I immediately thought of the hardship I encountered after dropping out of middle school because of poverty," Liu says.
To earn a living, Liu went to Beijing, on his own, in 1983 and worked on a construction site. Overwork, an eating disorder and the boss' scolding plagued him for a long time.
"I could not let the same thing happen to Li," Liu says, who returned to Quyang in 1986 and started to learn about photography, his favorite art form, after quitting his job on the construction site. He hoped to change his life around by learning a useful skill.
"But facing Li at that time, all I wanted to do was change the boy's fortune," Liu says.
So Liu gave the boy all his money and took several photos that he later mailed to the county authority, with explanatory notes.
Liu was pleased to find the local authority took the photos seriously and they arranged for Li to attend another school, exempting him from tuition fees.
Liu reasoned that if his photos could help Li, they could help other kids too.
To seek out these children, Liu went to the county education bureau and asked to see the list of poor families.
He also went to local schools and talked to the headmasters and teachers to find out more about which kids needed his help.
Since some of the children lived in remote areas, deep in the mountains, Liu occasionally had to trek for days or weeks to contact them.
After the end of the 1980s, Liu became a part-time photographer at several photo studios in Quyang.
He also grabbed any chance he could to join photography competitions and often won awards and cash prizes.
Due to Liu's kind-heartedness and photography skills, he was hired by the county government's culture bureau as a photographer in 2002.
He spends a large proportion of his salary helping children in need, but doesn't worry if he runs out of supplies when he is on assignment in remote villages, as villagers often give him food and he can always turn to mountain streams and springs for water.
Liu says he does have difficulties photographing the children sometimes. Some girls are shy and even their parents cannot talk them into facing the camera.
"In such cases I have to secretly shoot them," Liu says. "When I climb a tree to do so, without them knowing, I feel like a paparazzo."
Usually, to attract attention and get help for the kids, Liu sends the photos to local government officers and major newspapers in the province, or holds an exhibition.
He realized the power of the Internet in 2005, when he posted for the first time on an online photography forum a series of pictures about Li Xiang, a 14-year-old diagnosed with leukemia. He was living with his blind father and needed a huge sum of money to be cured.
The Internet worked its magic as the online photos attracted generous people from across the country who donated enough money within a month and Li was later completely cured.
Now, Liu has become Internet-savvy as he uses his blog to build files of the children that need help.
"When I see these children turning a new leaf on life I know I must keep it up," says Liu, mentioning Li Wei, who is now a military officer.
"Children, who radiate a soulful vulnerability, are my eternal inspiration," Liu says.
"I will photograph the kids and help them until the day I am too old to hold my camera."
(China Daily 03/03/2011 page20)