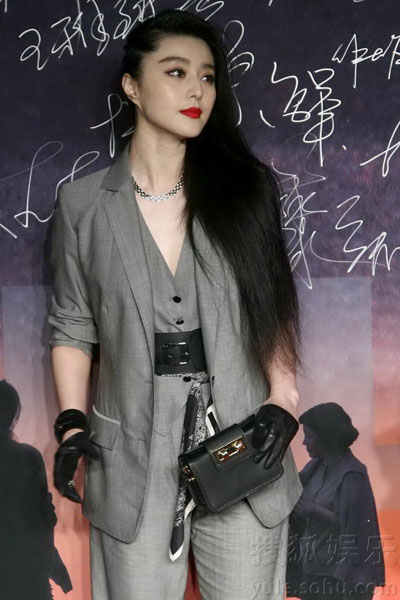 Actress Fan Bingbing attends the premiere of her new film "Buddha Mountain" ("Guan Yin Shan") Thursday in Beijing, February 24, 2011. [Photo:yule.sohu.com] 
Actress Fan Bingbing has no doubt, she says, that her new film, "Buddha Mountain" ("Guan Yin Shan"), will easily gross several hundred million yuan, Sohu.com reports.
Staying neutral in a single grey suit, Fan looked flamboyant at the movie's premiere on Thursday, February 24, 2011. The event also attracted male lead Berlin Chen and director Li Yu.
Fan, the Best Actress winner for her role at the 23rd Tokyo International Film Festival last year, shared at the premiere that she has special affinity for the film and will probably not fit into the same role two years later.
"Buddha Mountain" charts the stories of three teenage drop-outs, Ding Bo (Berlin Chen), Nan Feng (Fan Bingbing) and Fei Zao (Fei Long), and their middle-aged landlord, a retired Peking opera singer (Sylvia Chang) who has lost her son in a car accident. The film revolves around the foursome as they clash on values, romance and the generation gap. It is a film about youth and dreams, love lost and found, wildness and zest.
As pointed out by the production team on site, "Buddha Mountain" is not an art-house film. It is targeted for people born in the 1980s and 90s.
Fan Bingbing Workshop, her studio, also one of the distributors, will do the promotional work for the film, said the report.
Let's wish Fan Bingbing good luck. Slated release on March 4 may propel the film to be a dark horse as few other competitive works will go onscreen that time in the mainland cinema market.