Devoted guardian of history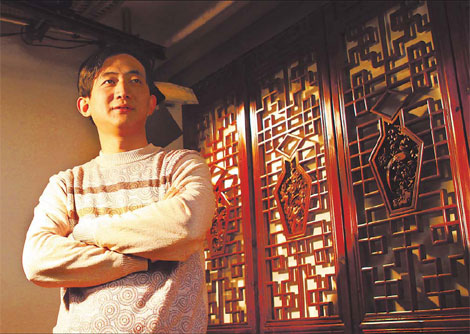 Zhang Wei, founder and operator of the cultural preservation website, oldbeijing.net. Zou Hong / China Daily 
Online success born from a desire to remember childhood neighborhood
In a rapidly modernizing society where culture and tradition are frequently surrendered to development needs, Zhang Wei, founder of the non-profit cultural website, oldbeijing.net, says "only the poor love culture".
This seems counter intuitive; shouldn't it be the rich who have the time and money for culture? But Zhang argues that it is only when you don't have enough money for a concrete joy, you seriously seek something abstract to fill the gap.
Zhang is now trapped in what he calls a "vicious yet vigorous" circle: after 10 continuous money-losing years, material insufficiency has but encouraged him to live for his ideal only.
He was inspired to create the website in 2000 to preserve an online memory of his home and neighborhood, which was being demolished.
The website, which leads with the words, "A piece of clean land for Beijing culture", shows the result of Zhang's efforts to promote and call for the preservation of Beijng's cultural heritage: 45 million written words, 300,000 photos and more than 3,000 hours of videos, plus over 10,000 registered members submitting 500 posts daily.
Zhang collected most of this alone. That means 10 years of single-minded purpose spent in a 10-square-meter rented hotel room in which he sits all day long staring at a computer screen while surrounded by thick cigarette smoke.
But it pays off. Now the website attracts more than 20,000 visits a day, and it has a growing influence among experts and media.
Zhang is increasingly being sought after as an intermediary, receiving phone calls from media both at home and abroad, asking for contacts of experts that has become friends with through the years.
Believing that the real experts on local culture are often common people - second-tier experts, he calls them - he's been trying to encourage the website members to raise public awareness of traditional culture preservation.
And he is especially keen on promoting "young experts" and educating young people as the city is changing so fast.
The website members have voluntarily formed a photographer group. Every week they go about the city taking photos of old buildings. Zhang stages free exhibitions and lectures at universities showing students pictures and stories of what could disappear at any time.
"When these culture-conscious young hopefuls become government officials in the future, hopefully they will take a second to think when faced with a demolition plan," Zhang said.
"I think traditional culture education should be included in the compulsory education system."
For his achievements, CCTV crowned Zhang the Legal Figure of the Year in 2007. The following year, the China Culture Relics Protection Foundation made him their Person of the Year.
But despite such accolades and his devotion, the job does have its downsides: the daily necessity of rejecting rude advertisers and insensible writers, and he admits it has put pressure on his family life.
"My parents urge me to have a child, but I just feel my life can't bear another source of pressure. The website is like my child now," Zhang said.
Fortunately, Zhang has a wife who understands his situation. They met through the website, and the couple had their wedding party in the ancient way strictly following every small ritual and etiquette. It cost so much time and effort, Zhang said, but he just wouldn't let go of this opportunity to display a dying culture.
Looking back to his only two overseas trips with his wife, one honeymoon trip to Greece and one to Germany, Zhang said. "It was such a pity. I was so busy videoing the buildings that there is not even a group photo."
During his poorest times he had only 20 yuan for a whole week and his parents regularly had to come to his aid. Now it is his wife, who works at an IT company, that serves as his informal sponsor. Occasional activities such as organizing wedding parties and folk art performances earn him extra income, about 2,000 yuan a month.
It's not that Zhang is not able to earn money, but so far he has resisted too much commercial advertisement on his website, which he sees as a spiritual home for him and people like him. Nor does he want government involvement as he thinks it will affect the website's independence and authority.
Once in a while he thinks about quitting, but he feels too much responsibility to do so.
"I never expected it would get so big. Once you are on the track, you can hardly get off. Maybe I'll wait for another 10 years, and then I will maybe donate the whole thing to a cultural foundation," he said.
In fact, instead of quitting he is now making plans for the next steps: a series of videos of elderly Beijingers telling the city's unwritten history, and publishing a book.
China Daily
(China Daily 02/28/2011)