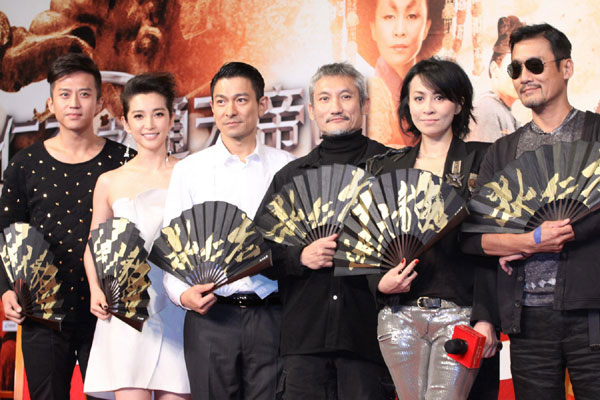 Director Tsui Hark (third from right) promotes the film "Detective Dee and the Mystery of the Phantom Flame" with cast members (from left) Deng Chao, Li Bingbing, Andy Lau, Carina Lau and Tony Leung Ka-Fai in Beijing on September 19, 2010. [File Photo: Huayi Brothers/Handout] 
Director Tsui Hark says his Golden Lion-nominated film "Detective Dee and the Mystery of the Phantom Flame" doesn't tell enough personal history of the legendary detective, and so he is propelled to make a prequel.
A film provisionally named "Detective Dee: The Prequel" has been in production, the director told Sina.com.cn on Thursday, February 24, 2011.
"The new film, like the first one, will also focus on a mysterious crime that is designed to show how Detective Dee impressed his fellows and started to build his reputation," said Hark.
Detective Dee, known in China as Di Renjie, was a legendary detective and official who lived under the reign of Empress Wu Zetian (624-705 AD).
In Hark's first film on Dee, Andy Lau plays the detective who appears already having a reputation for solving difficult cases.
Hark says Lau is unlikely to continue the role, although casting for the prequel is yet to begin.
The director is looking to shoot the film in 3-D. He has recently finished filming "The Flying Swords of Dragon Gate", a martial-arts film that was shot with 3-D cameras.
"Detective Dee and the Mystery of the Phantom Flame" (Trailer) was released in China on September 29, 2010, and landed 6th on the 2010 Chinese box office chart, according to Entgroup.cn. The film was nominated for a Golden Lion, the top honor of the 2010 Venice Film Festival.
"Detective Dee: The Prequel" is among the ten films announced by Huayi Brothers for the entertainment company's 2011 filmmaking plan. Other projects announced include a martial-arts film to be starred and produced by Jet Li, and another action film to be directed by Jackie Chan.