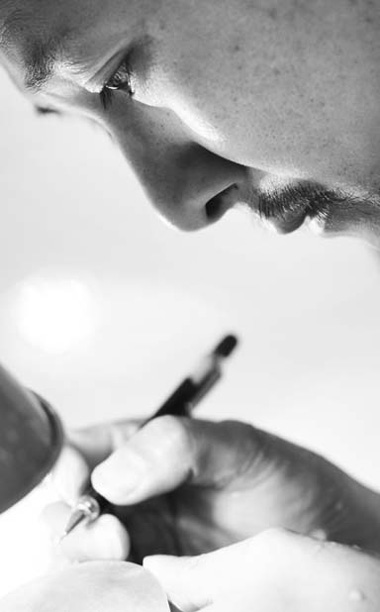 Wang Chaoyang, a jade-carving artist trained in Beijing, creates a piece of his own design in Ruili, a city in Yunnan province, which he has called home since 1997. Provided to China Daily
RUILI, Yunan - There is an old Chinese saying that goes: "Gold has a price, but jade is priceless."
But this adage is only a half-truth for Wang Chaoyang, a Beijing-trained jade artist, who has been carving out new ideas about the creative process in Ruili city - the "hometown of jade" - near the border with Myanmar in Southwest China's Yunnan province.
"People here value the artistic creativity of jade carvings as much as they value the stones' quality," said Wang, who has lived in the city since 1997.
"Ruili offered me a second chance in life."
Wang was born in a small village in Central China's Henan province and traveled to Beijing to study jade carving in the 1990s.
He became the apprentice of master carver Lu Kun, who works with the Beijing Jade Carving Factory and is celebrated for his knack for carving "ancient beauties".
Wang's carving abilities improved after a year of study at the factory, but business was not going well.
"Beijing has a big market, but it's difficult to put my ideas into practice there, because people venerate traditional conventions more than new designs," Wang said.
After a year and a half of studying in the national capital, Wang returned to his hometown to open a workshop where he created his own designs. But he again found it difficult to sell his wares and had to close the shop. He also ended up more than 100,000 yuan ($15,200) in debt.
In 1997, his friend recommended he try Ruili, which has since become a jade trading hub.
"I just wanted to give my dream one last shot but never really expected my life would turn around here," Wang recalled.
"But good luck was awaiting me in this city."
He found people were more open-minded about jade carving in Ruili.
"Carvers in Beijing need to promote their work and change their ideas according to customers' requirements. If they don't do that, they can't sell anything," Wang said.
"But in Ruili, people respect the visions of the carvers. And those from other cities and countries have their own understandings of jade carving, which makes the work challenging and allows for new designs."
Wang recalled the first big deal he sealed in Ruili. In 1999, he carved a 300-yuan chunk of jade into the likeness of 18 Buddhist arhats, making clever use of the various shades of the stone. He was able to sell the work for 80,000 yuan.
This encouraged Wang to create more works according to his own vision and to begin building a reputation. He has since become one of the city's most sought-after jade carving masters.
He is particularly proud of the Red Classics series he has carved, which features a Red Army hat, a book of Mao Zedong's quotations and a pair of straw sandals.
"People appreciate these works for their creativity", despite the poor quality of the stone, Wang said.
The artist also takes inspiration from the border town's colorful ethnic culture. One of his most celebrated works is of an elderly Dai ethnic woman.
"The simple but happy lives of local ethnic groups make me think about the real essence of true happiness," he said.
"The sculpture of the Dai woman didn't convey any message but rather shows the old woman's kindly smile and optimism."
Wang worried about his future when he first arrived in Ruili but has since done well. He owns two villas, one of which he uses as a studio. He said that what he has obtained from life in the city is more valuable than money - peace and simplicity.
"My family and I might lead a better life in Beijing in terms of material wealth, but there it's hard to find calm and silence, which are crucial to carving," he said.
Li Yingqing contributed to this story.
China Daily
(China Daily 02/25/2011 page2)