2011 China-EU Year of Youth launched in Beijing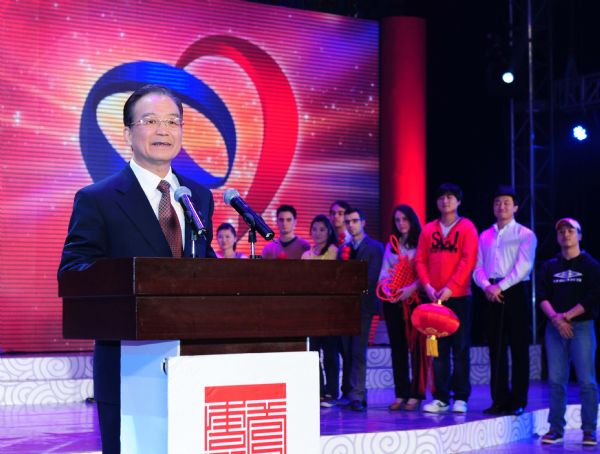 Chinese Premier Wen Jiabao (L) addresses the opening ceremony of the EU-China Year of Youth in Beijing, capital of China, Feb. 23, 2011. (Xinhua/Zhang Duo)
Chinese Premier Wen Jiabao attended the opening ceremony of the China-EU Year of Youth in Beijing on Wednesday, encouraging young people from China and the EU to build a brighter future for bilateral strategic partnerships.
Joining over 500 young people from China and the EU in the Capital Museum in downtown Beijing, Wen said that the year-long youth exchange campaign was the first theme year between China and the EU since the establishment of diplomatic ties, and is also the largest-ever China-EU cultural exchange program.
"This has revealed that our relations will be more vibrant in the future and full of hopes," he added.
China and the EU are in a vital period for deepening cooperation, Wen said, calling on young people from both sides to consider and explore ways to share opportunities, meet challenges and seek common development, which has benefits for China, the EU and the world.
Wen hopes that young people from both sides would always be brave in pursuing innovation and the truth. He also encouraged them to learn from each other in a frank and open spirit, in a bid to jointly create a better future for China-EU ties.
A video speech from European Commission President Jose Manuel Barosso was aired at the ceremony. He said that the Year of Youth offers an interactive platform for European and Chinese young people to enhance mutual understanding and friendship and also inject vitality to China-EU relations.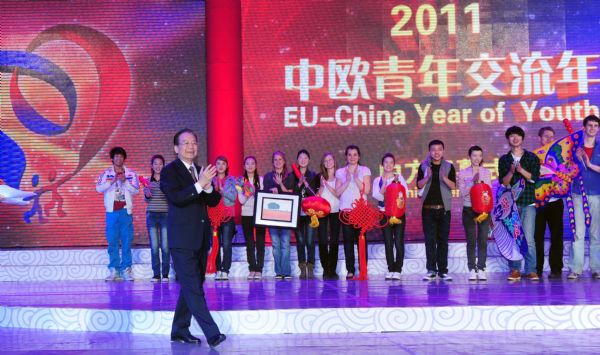 Chinese Premier Wen Jiabao (front) attends the opening ceremony of the EU-China Year of Youth in Beijing, capital of China, Feb. 23, 2011. (Xinhua/Zhang Duo)
Premier Wen and Barroso jointly initiated The China-EU Year of Youth during the 12th EU-China summit held in 2009.
Along with the opening ceremony in Beijing, Chinese and European youth were immersed in two-day discussions on topics such as culture, education, volunteering, creativity and environmental protection starting on Tuesday.
"We had excellent discussions on possible cooperation projects, ranging from environmental protection, world heritage to art and intellectual property," said Pierre Arlaud, a member of an EU youth delegation that arrived in Beijing on Monday to participate in the opening ceremony.
"I can feel there is a strong will from both sides to deepen understanding and forge a stronger partnership," he added.
The opening ceremony was the first in a series of exchange activities that will be held throughout the year in China and Europe. The events include cultural seminars, volunteer service conferences, youth summer camps and TV debates.
The year-long program was co-hosted by the All-China Youth Federation and the European Commission. The initiative aims to promote intercultural dialogue and strengthen mutual understanding and friendship between young people in China and the EU, as well as encouraging them to support the development of China-EU relations.