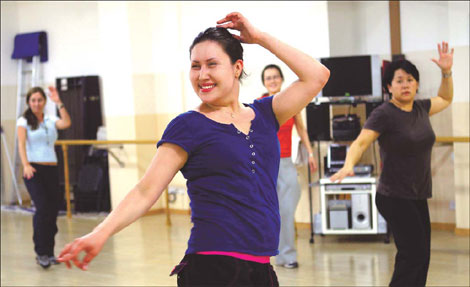 Russian Yuliya Mavletbaeva teaches her Zumba class at J Ballet Studio at International Wonderland Apartments. photos by Zou Hong / China Daily
An overloaded life prompts a Russian mother to combine her love of music with everything else, Mikala Reasbeck discovers
While most Beijingers are still getting to grips with the idea of mother and baby swimming classes, one Russian woman is charging ahead with a range of shared courses for parent and child that includes salsa, Kindermusik and global culture awareness.
Yuliya Mavletbaeva arrived in the capital almost nine years ago with one suitcase and $300. After living in Tajikistan for 10 years, she decided her future was in Beijing.
Yuliya first worked teaching pre-schoolers and kindergarteners English and virtues, until she gave birth to a baby girl two years ago. But as many career moms will agree, working full time with an infant at home leaves little time to shed those pregnancy pounds.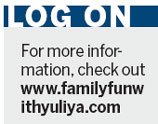 "I had all these videos at home - Zumba, Tai-Bo, yoga - but I wasn't doing them," she said. "It's hard when you're by yourself and it's hard even to motivate yourself to go to the gym."
A newly-acquired career coach took note of Yuliya's passion for dance and family life and suggested she find a way to combine them into a career. In the two years since, Yuliya has built up Family Fun with Yuliya, her brand of family bonding and fitness activities that is directed at families with young children.
Though many teachers might feel intimidated by having parents in the class, watching, critiquing and questioning, Yuliya prefers having them there.
"When parents are in the class, they see what we're doing," she said. "It gives them ideas of activities to do at home that can reinforce what is going on in class."
Yuliya hosts most classes in the daytime when her daughter is at pre-school. Kids too young for school, home-school kids and stay-at-home moms are her main audience. She said her work is especially important for home-schooled children and home-schooling parents who need fresh daily activities.
While the courses teach developmental and musical skills, they are also an opportunity for moms to socialize.
"After every class, we always have tea and snacks," she said. "We want them to stay, socialize and get out of the house."
She said many stay-at-home moms with babies and small children are stuck in the house, which can lead to loneliness. Yuliya's classes ease this problem by putting moms together with other moms and allowing them to socialize.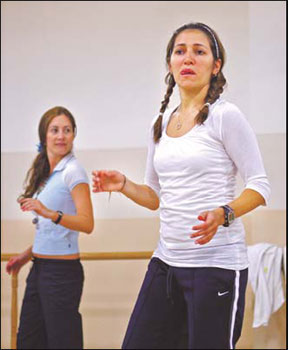 Dance student Sissi Arellano (right) concentrates as she learns zumba, an aerobic dance-based workout system created in the 1990s.
Yuliya has completed various training courses by phone and Internet while in Beijing but she had to travel to Bangalore in India to complete her Zumba instructor training. Following that, she received her baby massage training in Malaysia.
"I really like the things I'm doing," she said. "Exposing people to other cultures exposes me to other cultures too."
Her love of culture, dance, music and fun is evident in the courses she selects. Once a week, Yuliya offers a one-hour Zumba class. Zumba is an aerobic, dance-based workout system created by Colombian aerobics instructor Alberto "Beto" Perez in the 1990s.
The story behind the system goes that Perez once forgot his usual class music and improvised with salsa and merengue cassettes he had in his bag. They inspired him to create a new dance-fitness system that he brought to Miami in 2001, then onto considerable global fame. Yuliya said she did Zumba to lose her post-pregnancy weight and encourages other moms to do the same.
Aside from Zumba, every class is designed for parent and child to enjoy together. One of Yuliya's favorite family bonding experiences is her baby massage class.
The five-week course is for parents of babies aged 2 weeks to 1 year. Parents learn to massage their babies, to relieve them of problems like colic and constipation. She also cites the physical and emotional benefits of touch as crucial to bonding and development.
An old favorite that's incredibly popular in Beijing is Kindermusik - a method of childhood education that nurtures a child's cognitive, emotional, social, language, and physical development through music. Yuliya promises that parents and children don't need to be musicians.
"I'm not a professional singer and you don't have to be," she said. "Just find a tune and have some fun."
Yuliya teaches many Kindermusik lessons such as an "ABC and Me" course, which helps orient kids who want to improve their English language skills. Like all Kindermusik curricula, there are plenty of chances to improve self-expression through music, musical and tone awareness, and cultural understanding.
For kids and parents who just want to dance, she offers SalsaBabies, SalsaTots and SalsaKids.
SalsaBabies is for parents and babies (two months to one year old) to experience Latin dance. The babies are held in a sling on the parent's torso so the parent can dance while the baby feels the rhythm and beat. SalsaTots are for parents and slightly older kids, aged between one and a half years up to four years old. The kids should be confident walkers since this class is an opportunity for parents and kids to dance together. And SalsaKids is for kids aged five to 10 years old. While the focus is on the child, Yuliya encourages parents to stay and learn the dance moves, or Latin culture points like the history of salsa and some Spanish vocabulary.
New from Yuliya this spring are Belly Dancing Babies, Belly Dancing Tots, Belly Dancing Kids and the Pilcomayo Kids' World Playground curriculum.
The belly dancing series plans to expose kids to the dance, music and culture of the Middle East, while the World Playground course explains the cultures of a range of countries.
"There's a lot of cultures mixing here, so it should be fun to learn about where we're all coming from," Yuliya said. "And, of course, learning is always more fun when there's dancing involved."
(China Daily 02/23/2011)