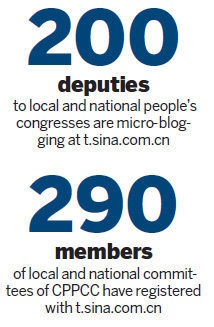 BEIJING - People with inspired thoughts about how to improve the country are turning to micro blogs to get their message across and decision-makers are using the modern medium to find out what matters.
In the buildup to next month's plenary sessions of the National People's Congress (NPC) and Chinese People's Political Consultative Conference (CPPCC) National Committee, hundreds of legislators and political advisers have opened micro blogs to solicit ideas for their proposals and motions.
According to figures provided to China Daily by the popular micro blog platform t.sina.com.cn, about 200 deputies to local and national people's congresses are "actively" micro-blogging on its platform.
In addition, 290 local and national CPPCC members have registered with t.sina.com.cn, China Daily search results show.
"We believe more and more deputies will register with us during this year's two sessions to communicate with netizens in this new way," said Mao Taotao, a public relations manager at sina.com.cn.
Mao said many deputies' micro blogs have become as popular as those of entertainment stars, thanks to netizens wanting to engage more in politics.
One example Mao gave was that of Li Dongsheng, board chairman of China's leading electronic device manufacturer, TCL. His "followers" have surged from 360,000 on Feb 11 - when he tweeted that he would listen to netizens' ideas for inclusion in his motions - to 490,000 by Tuesday.
The posting that was less than 140 words also revealed Li's plans for manifesto motions to improve people's livelihoods and touched on thorny issues.
Other micro-bloggers soon flooded the posting with 2,350 comments in 10 days and forwarded it 11,000 times.
According to the China Internet Network Information Center, 63.1 million Chinese are micro-bloggers.
So far, China Daily's online search has found 11 deputies to the NPC on the Sina micro blog with followers numbering more than 10,000.
The micro blogs' newfound niche in politics has been welcomed by netizens.
"As a deputy representing the people, you should genuinely reflect people's opinions," one netizen posted on Li's micro blog. "I wish more deputies like you would honestly approach the people."
Xiong Wenzhao, a professor in administrative law at Minzu University of China, said micro blogs offer a new way for deputies to extend their reach and listen to opinions.
"Most deputies work as legislators on a part-time basis and they do not open up offices dedicated to soliciting opinions. The micro blog can serve as a bridge," he said.
"Now, they can hear voices not only from their own constituency but also from across the country."
Though Li said he believes the micro blog lets deputies hear the voice of the people, some netizens suggested that such online solicitations could just be a show.
"Instead of just asking for scattered ideas online, I hope deputy Li will do a thorough investigation and survey real life to propose more detailed motions," one netizen using the name Huafeihua commented.
China Daily
(China Daily 02/23/2011 page3)