Tweet couples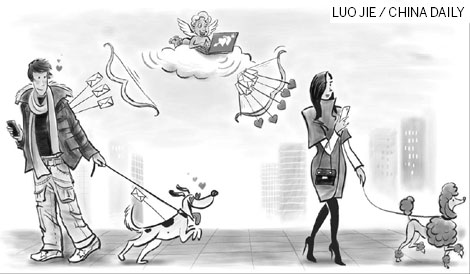 The nation's 'leftovers', or singles, are making all the right connections on the web. Liu Zhihua reports.
Marriages today, it seems, are made not in heaven but in cyberspace. The nation's micro-blogging services are fast becoming the latest recourse of shengnan, literally "leftover man", or bachelors. And they are taking to it with great gusto. Take "Ke You Suo An", a netizen who has been waiting anxiously for responses to his post since Valentine's Day. The 28-year-old, who works for a design institute in Beijing, hopes he will find true love online.
Freed of the embarrassments of blind dating and match-making rendezvous organized by family elders, he had no hesitation uploading his photos and a brief write-up to a micro blog on Sina.com.
"I am under huge pressure to marry," he says, refusing to disclose his real name.
"I'm pinning big hopes on the micro blog."
Wang Chuan, a 35-year-old Beijing-based IT veteran, is the brain behind the micro blog that has given people like "Ke You Suo An" so much hope.
Wang, who has been managing several websites over the past decade, succeeded in drawing 17,000 followers to one of his micro blogs on current affairs in 2010.
His blog on Feb 10 titled Rescue "Leftover" Women with Their Snapshots encouraged single women to post photographs and brief introductions of their friends, or themselves, online.
"I'm single and spend time all day long on the Internet," Wang says, adding that he was inspired by Professor Yu Jianrong of the Chinese Academy of Social Sciences.
On Jan 25, Yu initiated an online campaign, urging Web users to take snapshots of children begging on the streets and post them online, in the hope of helping them reunite with their families. In three weeks, some 240,000 people had joined Yu's campaign, and six missing children have been found.
Wang's call elicited little response on the first day. But on the second day, some 3,000 singles had posted photos and witty descriptions of themselves or their friends. This encouraged him to create a counterpart for bachelors.
One micro-blogger, "She Is Always Busy", uploaded four photos of a woman's face, with this description: "Sister (a popular form of self-address among women netizens) is fair - with or without make up; sister is an Aquarius - of Horoscope, not of figure; sister is a beauty - not only I say so, but so do the others!"
This elicited 129 re-tweets and 124 comments that expressed good wishes or sought further communication.
By Tuesday, Wang's micro blog for single women had more than 41,600 followers, and the one for bachelors had more than 24,430.
"I didn't expect the micro blogs to attract so many followers in such a short time," Wang says. "This shows yet again just how powerful micro-blogging can be when it meets the needs of society."
According to a report published by the Association of Marriage and Family Studies under the All-China Women's Federation on Dec 15, the nation is home to some 180 million singles between the ages of 18 and 34.
A nationwide one-year survey done by the federation along with other research groups in 2010 involving 32,676 people showed that single young men and women face huge social and family pressures to marry.
More than 90 percent of the male respondents said women ought to get married before 27, while 32 percent said the best age for marriage for a woman was between 20 and 24.
On the other hand, many female respondents said 28 to 30 were the best ages for men to get married, as they were most likely to be economically stable to undertake the responsibilities of marriage at this age.
The top career choices for their spouses was teachers for men and civil servants for women.
Men said wives with teaching jobs were most likely able to devote time to their families, which they saw as a priority, while women felt a government job offered the best job security.
The survey also revealed that most singles of both sexes attributed their single status to their own hesitations in taking a more proactive approach.
"Micro-blogging is both fast and convenient as a dating forum. Just upload your photos, and you will be swarmed with responses," said Zhang Chun, director of Nanjing Psychological Crisis Prevention Center, commenting on the campaign in a recent TV program.
"This is quite encouraging. Besides, the main users of micro blogs are those born after the 1970s. They are quick to accept new ideas," he added.
On Feb 14, another micro blog to help single men and women emerged on Sina.com. The creator is a law school graduate of Hunan Normal University, who wishes to be known only as Billy.
"Netizens can catch a glimpse of their potential suitors from their micro blogs, without encroaching on anyone's privacy," Billy says. "It is more efficient than dating shows or blind dates."
Billy's micro blog has already attracted some 1,900 followers, and he devotes about six hours every day re-tweeting and commenting on messages.
Wang, too, finds he has to spend a lot of time running his micro blogs and plans to recruit some volunteers to help him, besides finding some software to sort out the messages according to the location of participants, so it will be easier for netizens to find someone near them.
"I have received many online messages from participants saying that the micro blogs have helped them find a date on Valentine's Day or know someone they are interested in," Wang says.
"I'm glad to hear that. I hope this will lead to some happy couples eventually."
But "Ke You Suo An" is still waiting.
"I'm looking forward to the warmth of true love, to meeting you, knowing you and loving you," he says on his micro blog.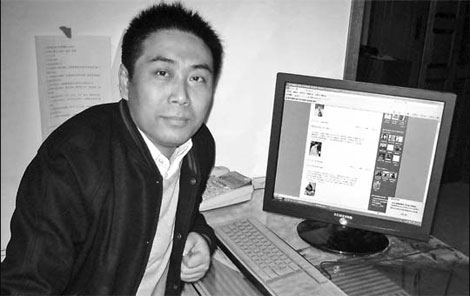 Wang Chuan, a 35-year-old Beijing-based IT veteran, is the brain behind the micro blog that has given single people so much hope of finding true love. Provided to China Daily
(China Daily 02/23/2011 page20)