IN BRIEF (Page 19)
Pills go down best with just water
Medications are best taken with tap water because beverages such as milk, mineral water, juice, beer or wine can sometimes alter their effects, warns Ursula Sellerberg, spokeswoman for the Federal Union of German Associations of Pharmacists.
"Milk contains the mineral calcium, which can bind with medications and prevent them from entering the bloodstream," she says.
For this reason, milk and dairy products reduce the effectiveness of certain active pharmaceutical ingredients - in thyroid hormones, for example - medications for osteoporosis and a number of antibiotics.
"A dash of milk in a cup of coffee can be enough to interfere with a medication's effectiveness," Sellerberg says. A similar effect is also possible from calcium-fortified juices and calcium-rich mineral water.
Grapefruit juice, on the other hand, can intensify both the effects and side effects of various medications. "The juice inhibits enzymes in the body responsible for breaking down many medicines," Sellerberg says.
The medicines affected are frequently for hypertension, heart diseases, lipid metabolic disorders and other chronic illnesses. No comparable interactions have been observed to date with orange or apple juice.
Medications should not be washed down with alcoholic beverages because they, too, can interact with certain active pharmaceutical ingredients.
Big breakfasts can up calorie count
Eating a large breakfast does not reduce hunger later in the day and actually increases overall calorie intake, according to findings by a team of scientists in Munich.
The study, by nutritionist Volker Schusdziarra and his team at a Munich research clinic, goes against the commonly held assumption that a large breakfast reduces appetite later in the day.
The 380 people who took part in the study generally ate the same amount of food throughout the day - on top of their breakfasts - irrespective of the size of the breakfast.
"Somebody who wants to reduce calorie intake should begin doing so at breakfast," Schusdziarra says.
The study included 280 obese people and 100 people whose weight was considered normal. They were asked to keep exact records of their diet over a two-week period, and each individual's calorie intake was compared to their own data as breakfast size varied from day to day.
Schusdziarra nevertheless warns against skipping breakfast entirely. He says the best way of losing weight was to eat less overall throughout the day, supplemented for example with five daily fruit or vegetable snacks. He also advises against radical diets.
Man bags can be bad for backs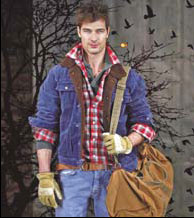 Sporting a weighty man bag may be the latest fashion for fellows but it can cause back pain and poor posture, British chiropractors say.
Trendsetters, such as footballer David Beckham, rapper Jay-Z and actor Brad Pitt, have all been spotted wearing the functional fashion accessory that the British Chiropractic Association (BCA) says can be bad for your back.
The BCA says the man bag in its various guises - from traditional over-the-shoulder laptop cases, to messenger bags and satchels - should be used with caution.
A BCA study shows that the average man bag weighs up to 6.2 kg, the equivalent of more than 12 bags of sugar. In the digital age, men's bags are loaded with essential on-the-go accessories, laptops, MP3 players, phones and gym kits. They can prove hefty burdens if carried on one shoulder for prolonged periods of time.
"(Man bags) could cause back and shoulder pain from prolonged stress, and this could also impact posture," says Tim Hutchful from the BCA. "We need to become more savvy in how we use them, while learning to read our bodies and know when we're placing too much pressure on certain points."
To avoid being weighed down by your man bag, the BCA recommends alternating the shoulder you sling the strap over, keeping the strap short and not carrying your bag for extended periods of time.
DPA-Reuters
(China Daily 02/23/2011 page19)