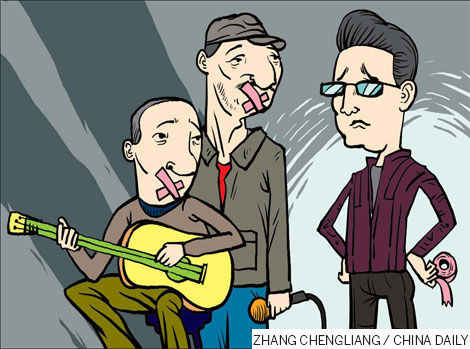 With a black cap fitted snugly on his head, Wang Xu closed his eyes, clinched his fists and turned his head toward the sky to belt out the words to the song In the Spring. His partner Liu Gang strummed the guitar and joined in with his own powerful voice.
Their brief stage time at this year's Spring Festival Gala was easily the most inspired act of the night, but it paled in comparison to the viral Internet video that first gave them fame.
When I watched the video of the drunk and half-naked migrant worker duo performing in their cramped and messy apartment, it touched me so deeply it brought tears to my eyes.
Their red-faced and soul-driven performance was so raw and untainted that it spoke right to my heart.
It wasn't just me, though; it struck a cord with an entire nation. Before the Chinese new year, I was at a restaurant eating dinner when the pair - now known as Xuriyanggang - appeared on a CCTV variety show.
As Wang and Liu strained their voices together, everyone put down their chopsticks to watch. One waitress even began to cry.
Maybe it's because so many migrant workers are clumped together in depersonalized groups like the "ant tribe" or the "mouse tribe" and often viewed with suspicion that I find it refreshing and even inspiring to see some of them make good.
Wang and Liu are so successful they can now charge upwards of 50,000 yuan, more than most migrants make in a whole year, for a single appearance. The problem for Xuriyanggang is that the song that made them popular isn't theirs.
At first, the composer and performer of In the Spring, Chinese rock star Wang Feng, supported the duo and even performed the song with them at a November concert in Shanghai. But now he's changed his tune. He has banned the duo from performing the song and claim they abused his kindness. Wang Feng's reaction caused quite a stir on the Web. Some accused him of being selfish, while others understood his position.
Xuriyanggang apologized, claiming a lack of showbiz knowledge. I doubt the migrant workers meant any harm, but the legality of the issue is clear: Xuriyanggang violated the copyright of Wang's music.
There wasn't much an artist like Wang Feng could really do to pursue such a complaint legally 10 years ago, mainly because the laws and environment just weren't there. Yet, today it's a different matter. As well as laws, China has also developed in terms of competition. As Wang said in an interview last April: "The past 10 years have seen severe competition in Chinese rock music and only the fittest can survive."
At his Shanghai concert, Wang played the nice guy because he didn't view the migrant duo as competition. Now they have used his material to climb the ladder of fame and rake in the dough, I bet Wang feels threatened.
It's not personal; it's business. The only way an artist can survive in the land of shanzhai - copycat products - is to stick to their guns on copyright issues.
China can make the best intellectual property rights laws in the world and smash millions of copied DVDs, but the only way the art of pirating will ever diminish in China is if artists like Wang use IPR law to guard against pretenders.
I hope from the bottom of my heart Xuriyanggang write their own songs and make it big. I think they sing In the Spring better than Wang, but for now they are just a one-hit wonder with a song that is not even theirs. That's not exactly something to be remembered for.
The author teaches English at Beijing Foreign Studies University.
China Daily

(China Daily 02/22/2011)