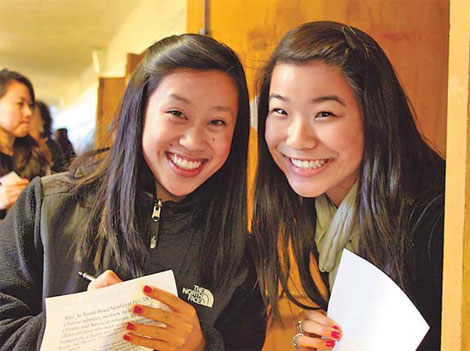 Tian Kisch (left) and Mai Burke are working to raise awareness in their community about adopting children with special needs. Chang Jun / China Daily
For Tian Kisch in Seattle, the United States, being a teen board member of Families with Children from China is more than a job to organize traditional Chinese events. It is also about helping Chinese orphans find good families in the United States.
Sixteen years ago, she too was an orphan before an American family adopted her. As she grew older, she wanted to make a difference for orphaned children.
"Looking at these orphans, I know how much of a chance I had and how many opportunities were presented to me after I was adopted. It's important for them to realize that the same hope exists for them too," Tian says.
Tian returned to China for the first time in 2004 after the adoption. She went to see her orphanage and her foster mother, who saved her life when she was found seriously ill outside a police station in Guangzhou, capital of Guangdong province.
She says it was an experience so powerful that it drove her to seek help from various adoption agencies for Chinese orphans.
With other teen board members from Families with Children from China, an organization of families who have adopted children from China, Tian raised enough money to send 1,200 bottles of medicines back to China.
Tian is not alone. At Families with Children from China, many adoptees said they are willing to help children in China.
Julia, a 15-year-old teen board member, went back to China in the summer of 2010 for an event organized by the board for American adoptive families.
"After the trip, I felt a strong connection and I wanted to reach out to these children," she says.
China has always been a popular destination for American parents seeking to adopt a baby. Since 2000, US citizens have adopted more babies from China than any other country.
With many American families adopting kids from China, homeland tours are organized for the families to experience Chinese culture.
"The reason I wanted to bring (my adopted children) to China is to let them have a better sense of where they came from and have some understanding about their roots," says Jan Frederick, who adopted two daughters, Nalle Yan, 16, and Meng Meng, 10, from China.
"I'm not telling them how much better they are than those orphans, I just want them to have a better sense of themselves," she said.
Paul Camera and his wife adopted
two girls from China's Hunan and Jiangxi provinces. When the kids grew up to be teenagers, Camera made them learn Chinese.
"China's future is very bright. The two countries will be linked closer. It will be good for them to learn Chinese," he says.
China Daily
(China Daily 02/21/2011 page22)