It's never easy to raise a child. It's even harder to raise a child with special needs, and for many parents it would be mission impossible to raise three children with special needs.
However, with a brave heart and a caring soul, Lara Peterson in Seattle says she enjoys each and every moment with her three daughters, all adopted from China, and all with special needs.
A 44-year-old single mom, Peterson is a product marketing specialist with the Seattle-based Microsoft Corp, and proactive community leader for the northwest chapter of Families with Children from China (FCC-NW). As president of FCC-NW, Peterson dedicates most of her leisure time to advocating for the 300 local members of her organization.
Peterson loved to collect dolls, all kinds of dolls, when she was a child and loved to pretend play mom. She recalled she wanted to adopt a child from China back then, a thrilling idea even to herself.
In the late 1990s, when the 30-something professional found she "could not find the right man as a husband, but having a kid was still important", Peterson thought again about her childhood dream.
In March 2000, after completing the paperwork and the waiting period, she brought home her first daughter from China, Gwenn. Still in her infancy, the girl was born in Nanning, the Guangxi Zhuang autonomous region. Peterson thought it was only a matter of time before Gwenn would outgrow her nutrition deficiency and become strong.
Actually, she did not even have time to think about it - in 2002, Peterson adopted Ella, then an 11-month-old, from Pingnan, Guangxi. This time, she knew before her China-bound trip that Ella carried thalassaemia, an inherited blood disease that causes anemia.
In 2008, Peterson filed another adoption application. This time, she brought home 2-year-old Lucy, who had a heart disease, from Xiamen, Fujian province.
But even with siblings in the house Peterson noticed that Gwenn, a 9-year-old in 2008, had moderate to severe problems with eating, language, social and motor skills. Worse, Gwenn did not seem to have any interest exploring the outside world or in interacting with other people - she simply wandered off, entrapped in an imaginary, isolated fortress no one could break into.
In 2008 Gwenn was diagnosed with autism.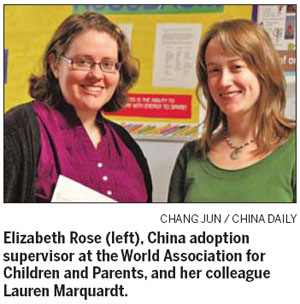 "When I think, she cannot get married, cannot have kids, I'm just " Peterson pauses, tears in eyes. "You get sad."
But being sad is never something Peterson is for long, instead, she "deals with it and makes the best use of it".
Through her three daughters, Peterson came to understand better about giving, loving and caring. So did her company and family members. Microsoft Corp provides an excellent medical care policy, says Peterson. All her adoption application fees and the medical bills for her daughters were fully reimbursed. And, twice a year, her mother flies from Minnesota to Seattle to help her take care of the children.
Therefore, although physically challenged, Peterson does not feel alone.
Actually she is not alone. Adoptions of children with special needs from China are by no means uncommon. Elizabeth Rose, China adoption supervisor with the World Association for Children and Parents (WACAP), says there are a rising number of children with special needs waiting to be adopted from China.
In 2003, WACAP handled 130 adoptions of Chinese children, of which 30 were special needs children. In 2010, out of the 120 cases in total, 115 children were with special needs, according to Rose.
"I only want that the kids can grow up healthy and happy," Peterson says.
China Daily
(China Daily 02/21/2011 page22)