Jackie Chan's New Movie Gets U.S. Release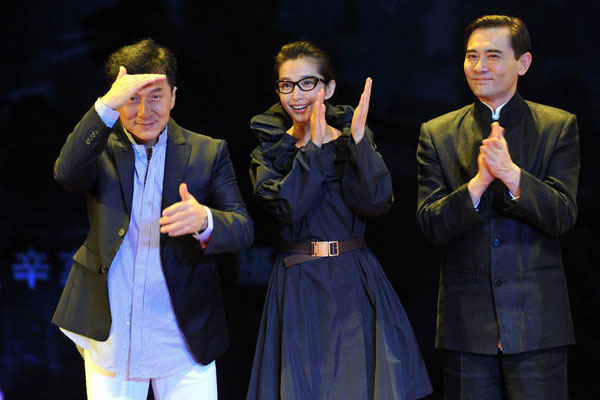 (Left to right) Jackie Chan, Li Bingbing and Winston Chao celebrate as the movie "1911" started filming in Fuxin City of northeastern China's Liaoning Province on September 29, 2010. [File Photo: CFP]
The Chinese film "1911" ("Xin Hai Ge Ming"), which is billed as Jackie Chan's 100th movie, is likely to hit cinemas in China and the United States simultaneously in October, "The Hollywood Reporter" says.
Distributor Well Go USA has purchased the movie's North American rights, and aims to help it become the first Asian movie that gets a day-and-date release in the U.S.
"We are honored to be a part of '1911' on many levels, not only because of its historical significance, but also because it's Jackie's 100th film," Well Go president Doris Pfardrescher was quoted as saying.
"Jackie Chan is an icon and it's just thrilling for us to be able to bring this film to his North American fans on the same day and date as Asia's theatrical release."
The film, with a former title, "The 1911 Revolution", is a tribute to the 100th anniversary of the monumental Xinhai Revolution that began in 1911 and eventually brought an end to China's last feudal dynasty.
Actor Winston Chao plays Dr. Sun Yat-Sen, who led the revolution.
Jackie Chan, one of the movie's producers, also stars in the film.
More than 70 other Chinese celebrities are in the cast.
More Chinese films have gotten access to the North American market in recent years. For example, Feng Xiaogang's two bankable films, "Aftershock" and "If You Are the One 2", were released in North America in 2010 in the same year of their domestic releases.