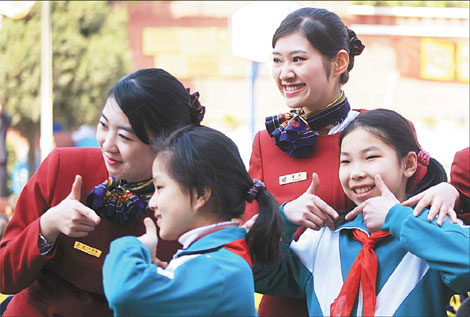 Air hostesses show students how to smile in etiquette lessons, which were well under way by the 2008 Beijing Olympic Games. photos provided to China Daily
For most children in the world, a smile is a symbol of happiness that appears without effort. This is no longer the case for primary school student Huang Xiaoping.
Whenever Huang, 8, realizes that her smile is not displaying at least eight teeth, she covers her mouth and rethinks the movement. A similar correction is made when noticing that a welcoming bow has not fallen to exactly 30 degrees.
The student from Baijiazhuang Primary School attends etiquette classes at the institution and is determined to modify how she greets people into "a correct and official way".
"I used to think smiling was how the face reacts to pleasure and happiness," she said. "But now I understand this is not always the case."
Huang said smiling is also a gracious and courteous move made when greeting someone or showcasing appreciation.
Huang's unusually mature outlook is the result of a plan to strengthen manners and cultivate moral standards in primary and middle school students, set by Ministry of Education on Dec 30.
For primary school grades one to three, the guidelines state that students should learn greeting techniques, traffic rules and improve their overall care for the elderly. Students in grades four to six should have lessons in manners and respecting the customs of differing ethnic groups.
In middle school, teachers are required to instruct students about politeness, for face-to-face communication as well as in e-mails and text messages. For high schools, they are required to teach grooming and the importance of queuing.
For many kids, this style of education started much earlier than December last year.
Beijing's education authorities put significant emphasis on civic education in the run-up to the 2008 Beijing Olympic Games, aiming to improve etiquette levels of all the city's residents and present a refined image to visiting foreigners. As a result, many schools started and maintained their own etiquette classes.
One such example is Xinxian Primary School in Dongcheng district, which began courtesy classes at the time. The school gives three to five etiquette classes every semester, depending on the different grades.
"Students learn polite conversation, manners and the importance of respecting the elderly," said principal Sun Wenyan.
In addition to formal teaching, Sun and the relevant etiquette teacher also try to set a good example by standing at the school gate and welcoming students in the morning.
"Politeness and courtesy are habits that can't be acquired through only a few classes. They need days and months, even years, of practice," Sun said.
"If we set a good example and stick to it, our students will eventually foster good behavior."
Baijiazhuang Primary School utilizes a different approach to teaching etiquette. The school has shot a film that involved actual students, to show how to apply manners. It is repeatedly broadcast inside the campus.
The idea has come home too, with some parents latching onto the subject with their own opinions.
Wang Lin, mother of a 12-grader at Jingshan Middle School, thinks that the public's uncivilized behavior and a flood of "unhealthy" information on the Internet are hampering her son's development.
"I often notice queue jumping, spitting and littering," she said. "Teenagers who haven't developed a clear sense of right and wrong tend to copy these adults."
She said her own son had recently been taught to eradicate his bad habits, such as not addressing Wang properly and using bad language.
"The text messages he sent to his friends were full of bad words," she said.
Wang said she hoped relevant authorities could strengthen the supervision and control of Internet content that teenagers can access.
China Daily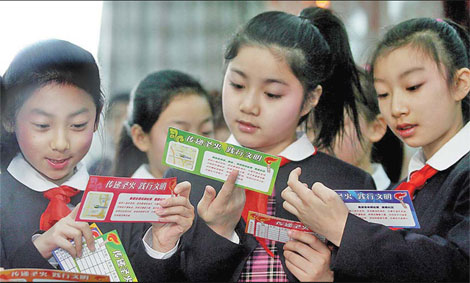 Students check pamphlets on manners and politeness at the start of a new semester. photos provided to China Daily
(China Daily 02/15/2011)