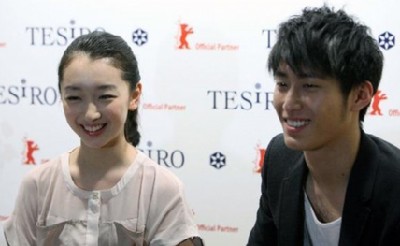 Actor Dou Xiao (R) and actress Zhou Dongyu from Chinese film "Under the Hawthorn Tree" are seen during an interview at Berlin Film Festival in Germany, Feb. 11, 2011. The film from former Golden Bear winner Zhang Yimou, will be shown as part of the Generation 14Plus section during the film festival.
Famous Chinese director Zhang Yimou's latest film "Under the Hawthorn Tree" opened Saturday to young audiences at the Berlin Film Festival.
The film tells a love story between Jing Qiu and Lao San, two young lovers coming of age during the cultural revolution in China (1966-1976), whose different socio-economic backgrounds at that time made a lasting romance nearly impossible.
Lead actors of the film Shawn Dou (Lao San) and Dongyu Zhou (Jing Qiu) attended the opening night screening in Berlin. The famed director Zhang Yimou was unable to come as he is currently on location filming a new movie.
"We were really honored to work for Zhang Yimou," said Dou, who is now a student at Beijing Film Academy, where Zhang also graduated. "He taught us how to be in the role. At first, we didn't know anything about acting. It was an unforgettable experience, a turning point in our lives."
Zhang, who won the first Golden Bear for China in 1988 with "Red Sorghum," also screened his feature "A Woman, A Gun and A Noodle Shop" at last year's 60th Berlin Film Festival.
For 34 years, the Generation 14Plus section of Berlinale where the film was screened has delighted and inspired children and young adults, allowing them to see a slice of life elsewhere by screening films from around the world.
Each year, around 50,000 moviegoers, young and old, make the Generation K (for children) and 14Plus (above 14 years old) an exciting place to view cinema at the festival.
"It's important for the youth to see their peers growing up and coming of age in other parts of the world," Generation Director Maryanne Redpath told Xinhua.
Redpath said the film was chosen for its "beautiful and sensitive love story from a great director." Young critics agreed.
"The story was very moving. I have never seen a Chinese film before, but I think that I learned a lot about Chinese culture from watching the film," 14-year-old Charlotte Hochegger told Xinhua after the opening night screening.
Most films chosen for the Generation section did not especially target young audiences, Redpath said.
When asked about the accessibility of Zhang's film for today's European youth, Dou said "of course the film is about different backgrounds and China has a different culture as well, but still I think true love is the same for all people."
The film has a timeless story that crosses language and cultural barriers.
Zelanie Idellner, 16, a student of Berlin High School, told Xinhua "I never believed in true love until I saw this movie."
While Zhang's film won't compete for the Golden Bear, the director could bring home a Crystal Bear in the Generation 14Plus section.
Generation awards will be handed out on Feb. 18 by a seven-person jury of young adults.