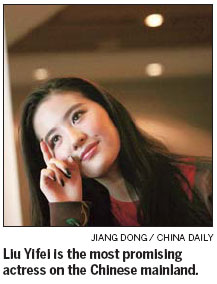 Joan Chen, Gong Li, Zhang Ziyi - who's the next of their ilk? Most agree 24-year-old Liu Yifei is the likely contender to become an internationally adored Chinese actress.
In 2007, Liu joined William Morris Agency (WMA), the prestigious talent and literary company whose clients have included Marilyn Monroe, Elvis Presley and Katharine Hepburn. She is one of the agency's only two Chinese stars. Zhang Ziyi is the other.
Inevitably, she has been compared with Zhang. Both are pretty women who became famous while young.
Zhang became a global star when she appeared in Ang Lee's Crouching Tiger, Hidden Dragon at age 21.
Liu, who started her career in a Chinese TV series at age 15, rose to overnight stardom for her performance as the Little Dragon Girl, who only eats honey and is as pure as driven snow.
At 21, she co-starred with Jet Li and Jackie Chan in the $70 million action blockbuster The Forbidden Kingdom released in North America.
Born to a French-language professor and a dancer, Liu received training in dancing, singing and piano as a little girl. She moved to the United States at 10 and spent four years in New York City's Long Island. Consequently, she speaks fluent English - something most Chinese actresses with Hollywood dreams strive for.
And her timing is good, too. The world is paying more attention to China, and the country's domestic film market is expanding at breakneck speed.
In addition, the roles available to Chinese actresses are becoming less pigeonholed than the past, when they could rarely appear as anything other than kungfu fighters, bad girls or mysterious ancient beauties. They also have more chances to participate in international co-productions.
Liu's sweetness-oriented appeal is also a stark contrast to Zhang's apparent toughness. Both in front of the camera and offstage, she is known for her soft voice and pleasant smile.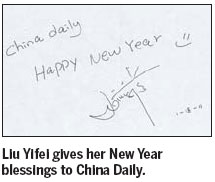 But she insists she can be tough and independent.
Her parents divorced when she was 7, and she has lived with her mother since.
Although she entered the entertainment industry early in life, her mother did not accompany her to interviews. She makes her own career decisions, she says.
With everything she has going for her, Liu seems poised to become China's next female face of global cinema.
Liu was born in the Year of the Rabbit and welcomes 2011, her ben ming nian, which will be riddled with challenges, according to traditional beliefs. Even so she seems ready for whatever the year will bring.