A magic marathon grabs love by the horns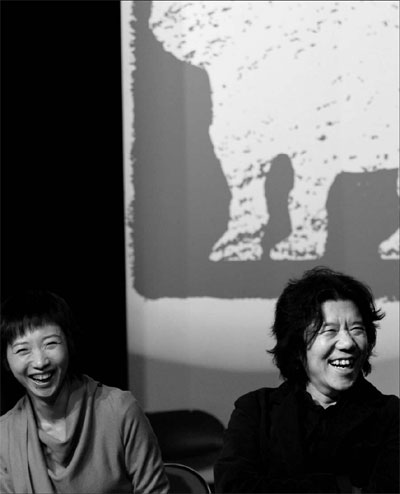 Playwright Liao Yimei and husband, avant-garde theater director Meng Jinghui. Jiang Dong / China Daily
The play Rhinoceros in Love has become such a hit since it was first produced in 1999 that it has made stars of its creators. Chen Jie reports.
Liao Yimei liked a quote about love by French writer Marguerite Duras so much that she included it in her debut play, Rhinoceros in Love. In the summer of 1999, writer Liao married avant-garde theater director Meng Jinghui.
On their honeymoon, she felt a strong need to "record the passing of youth and the extremely powerful passion for love".

"I'd written a few TV series and novels and felt a bit tired of them. But theater fascinates me, and I wanted to write something about love, about youth, about passion," Liao says.
At the same time, Meng was exploring ways to make experimental plays more widely accepted. The two got together and the outcome was Rhinoceros in Love. However, when Liao had finished writing it, the couple initially could not find any money or a theater to run it.
They finally found a small theater in downtown Beijing's Beibingmasi hutong. But just before its premiere, the man who agreed to give financial support changed his mind. And the lead actor had to leave to shoot a TV soap opera and "pay the apartment rent for the next month".
Meng borrowed money from a friend and carried it to the theater in his backpack.
"We made a deal that if the play did not make money, Liao would write scripts for TV series to pay it back," the director recalls.
The debut was not a sensation, and the 350-seat theater was not full. Even so, young audience members liked the story and the play became popular by word of mouth. After five or six nights, it was sold out.
"Every night, some 500 people packed in and we all felt crazy," the director says.
The play was acclaimed as the "bible of love" among Chinese theatergoers and became the most popular drama in China of the past 10 years. It has been performed some 660 times for 1.2 million people throughout the country. More than 200 student drama companies on 1,000 campuses have put on the production.
The story is simple: Rhinoceros keeper Ma Lu falls in love with his next-door neighbor Ming Ming and does everything he can to win her heart. However, Ming loves another man who does not care about her. Ma's friends try to help him out. On a rainy night, the desperate Ma kills his rhinoceros and kidnaps Ming.
Why a rhinoceros? Because they have bad eyesight, which Liao uses to represent blind love.
What appeals to the audience is not the love story itself, but the breathtaking lines, and the direct and frank words that sound like emotional poems. All of the play's fans can recite some of the lines.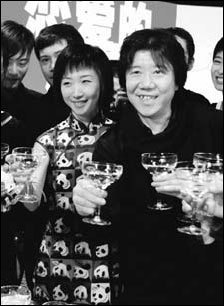 They celebrate the success of Rhinoceros in Love.
"One night, when the audience repeated Ma Lu's line - 'Loving her, is the best thing I've ever done in my life' - I couldn't help but cry. That's the huge power of theater, of live performance," Liao says.
"When we did the play in 1999, we tried to express youth, to identify the passionate love of youth and to let the passion burn the stage and not think too much about how long passion will last. Unexpectedly, 12 years have passed. We're still here, performing this, and audiences still love it so much. Our rhinoceros has been a magic marathon."
Meng, who has become arguably the most successful avant-garde theater director, is proud of her achievement.
"Some 1.2 million people have seen my play. It's so gelivable."
"When we started to do theater in the mid-90s, not many people dared to talk about avant-garde and now it is such a fashionable word. At that time, parents and teachers could not understand the experimental dramas we did, and now it has become trendy and more audiences enjoy it," he says.
Poet Xi Chuan says, "There are two kinds of revolution. One gets the applause while the other fails to win applause. Meng Jinghui is lucky to win applause."
(China Daily 02/11/2011 page20)