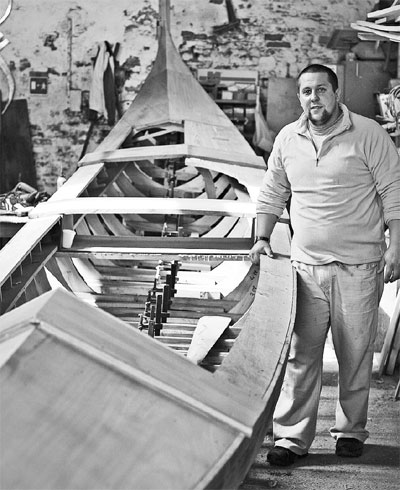 Master craftsman Christian Dordit needs between 25 and 30 months in order to construct a gondola. DPA
Venetian gondola makers fight for space to keep tradition alive. Peter Mayer reports.
The gondola makers of Venice are struggling to find space for their boatyards due to the city's seemingly insatiable demand for hotels and restaurants to cater for tourists.
However, there are a few yards where the art of making the traditional Venetian rowing boat is still carried out. The Squero di San Trovaso looks more like an Alpine hut than a gondola maker's yard, but in the wooden building alongside a canal in Venice's Dorsoduro district the centuries-old art is still practiced.
The Squero's design dates back to the 17th century when the wood and the carpenters arrived in Venice from the Cadore region in the Dolomites. Squero comes from the word "Squara", which means "team" in Venetian dialect - for example a team of boat builders.
Today, the Italian state treasures San Trovaso as a historically significant building where tourists can make appointments for tours. It is the most famous of the less than a handful of gondola-specializing boatyards still in existence.
"The situation must change if Venice is serious about safeguarding its heritage," says 27-year-old Christian Dordit, the city's youngest qualified "Maestro d'Ascia" or Master of the Axe, as gondola-makers are known.
"The main problem here is the lack of adequate space for people to practice their craft, which also means running a business," Dordit says. Dordit smiles wryly when it is suggested to him that his complaint sounds like a paradox in a city whose population has been steadily dwindling over the last decades.
"Trade licenses are issued more easily to those who operate bed-and-breakfasts, take-away pizzerias and other activities that cater for mass tourism," Dordit explains.
Dordit brings us to his own Squero, a converted warehouse in San Guiseppe which lies some distance from the mouth of Venice's "main street", the Grand Canal, and also from the maze of smaller waterways where most of the city's gondoliers ply their trade.
Dordit works between 11 and 12 hours a day and has to share his small workspace with two important assistants, his father and his uncle. Reaching Dordit's squero can be tricky for gondoliers since they have to contend with the strong ripple effect made by motorboats speeding towards the city's Lido - the sandbar that acts as a natural barrier between the lagoon and the Adriatic Sea.
In September when the Lido hosts the annual Venice Film Festival, water traffic can be intense and a real test for the boatmanship of any gondolier. "A gondola must fit its owner like a shoe fits a foot," Dordit says, explaining that he takes into account the height and weight of a gondolier before crafting each unique vessel.
The boat is constructed from eight different kinds of wood, including fir, oak, larch and mahogany. It takes between 25 and 30 months to complete a gondola, which is made out of around 300 pieces at a cost of 25,000 euros ($33,000).
Dordit has to date made 12 gondolas, the fruit of a passion that began in his early teens when he started an apprenticeship under Venice's most renowned modern-day Maestro d'scia, Gianfranco Vianello, who is known as "Crea".
"My ambition was always to set up my own boatyard, and also serve as a mentor to young people who are interested in this career," he says. There are currently 425 private gondolas in use along the canals of Venice. The municipal government also runs 10 gondolini - larger boats steered by two gondoliers which ferry people across the Grand Canal.
Together with a group of craftsmen, Dordit is trying to convince the city authorities to allow them to set up a "cluster" of workshops including a new squero in a disused shipyard on the island of Giudecca, which forms part of Dorsoduro. Efforts to date have been unsuccessful but Dordit remains hopeful and refuses to give up.
"There's a sense of poetry doing this job," Dordit says. "It's like rowing down the Grand Canal at sunset. I was born in Venice and have lived here all my life, but the beauty of this place still amazes me."
German Press Agency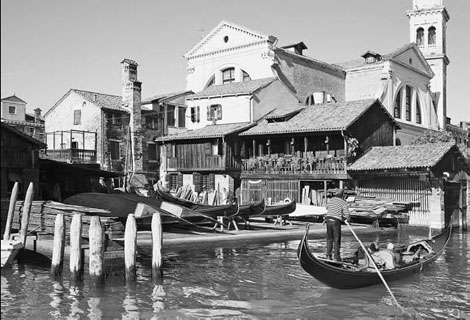 The history of "Squero di San Trovaso" boatyard can be traced back to the early 17th century. DPA
(China Daily 02/10/2011 page20)