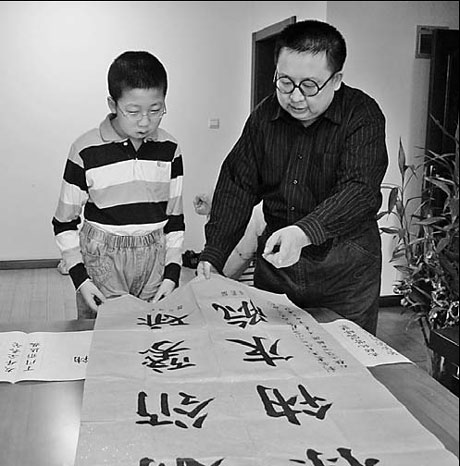 Li Juyan shows his son his collection of calligraphy from Chinese ethnic groups. Su Yan / For China Daily
Li Juyan says his calligraphy collection sourced from Chinese ethnic groups is as important to him as his son.
The 45-year-old senior reporter at Qiqihaer Broadcasting Station in Heilongjiang province has spent more than 20 years collecting more than 2,000 calligraphic works from 30 non-Han Chinese ethnic groups.
Li, who is ethnically Manchu, believes written characters are one of the most iconic visual markers of an ethnic group, but they are vanishing.
"They're treasures of our nation, which must be passed on," Li says.
Li has collected and studied materials from Mongolian and Shui sources, which have written characters, and groups such as the Khitan and the Jurchen, which do not. To find out more about the groups' languages and calligraphy, he has sought professional advice.
"These ethnic language masters have been very supportive," Li says.
Haosinala, for example, a Mongolian expert, wrote out for Li the character "long", or "dragon", in 200 different Mongolian writing styles.
Wang Hongli, a Khitan language expert in Liaoning province, sent Li more than 10 of his Khitan calligraphic works after Li called in 2005. In the following years, he sent Li 40 more.
"What Li is doing is meaningful and helps preserve our linguistic diversity," Wang, 83, says.
Li frequently communicates with experts in the field of ethnic writing.
"Every time Spring Festival arrives, I send out greetings and my text message list has more than 400 experts' names on it," Li says.
Li's calligraphy collection is divided into three categories: non-Han ethnic calligraphy from non-Han calligraphists, Han calligraphy from non-Han calligraphists and Han calligraphy from Han calligraphists.
Li has more than 200 Manchu calligraphic works, 130 of which are from 40 descendants of the Aisin Gioro family, the Qing Dynasty (1644-1911) royal family.
Li's enthusiasm has turned him into a minor expert on the culture and history of ethnic groups. His apartment shelves loaded with more than 10,000 books, are testament to this.
His interest in written characters has expanded to speaking old languages. Li has been to Sanjiazi village, Heilongjiang province, more than 10 times since 1985 to learn to speak Manchu, as it is the only village in the world that retains Manchu as its first language.
Li calls his collection and research a long-term project. He hopes to exhibit his 2,000 calligraphy works nationally and internationally one day, before they have their own permanent museum space.
"As a member of one of China's 56 ethnic groups, I feel like I have an obligation to do this," Li says.
China Daily
(China Daily 02/09/2011 page20)