Bamboo, a symbol of traditional Chinese values
China is not only famous for its national treasure, the giant pandas, but also the giant panda's staple food -- bamboo. The Chinese love bamboo, and bamboo culture has been rooted in their minds for a long time. To the Chinese people, bamboo is a symbol of virtue. It reflects people's souls and emotions.
Bamboo is viewed as a symbol of traditional Chinese values. It is an example of the harmony between nature and human beings. Ancient Chinese people designated the plum, orchid, bamboo and chrysanthemum as the "four gentlemen", and pine, bamboo and plum as the "three friends in winter". People think its deep root denotes resoluteness; its tall, straight stem represents honor; its hollow interior modesty and its clean and spartan exterior exemplify chastity.
Ancient Chinese literature held bamboo in profound esteem. This explains why there are so many writings and paintings dedicated to the plant throughout history.
Origin
Possessing the most bamboo of any country in the world, China is well known as the Kingdom of Bamboo. China grows 400 species of bamboo, and one third of all known bamboo species in the world are grown in China. China has the largest bamboo planted area, and the area which produces the most bamboo in China is the south Yangtze River area -- a very popular destination among tourists from all around the world. Bamboo is mostly produced in South China, including regions like Sichuan, Chongqing, Anhui, Zhejiang, Fujian, Hunan, Guangdong, Jiangxi, and Jiangsu provinces, as well as the Guangxi Zhuang Autonomous Region.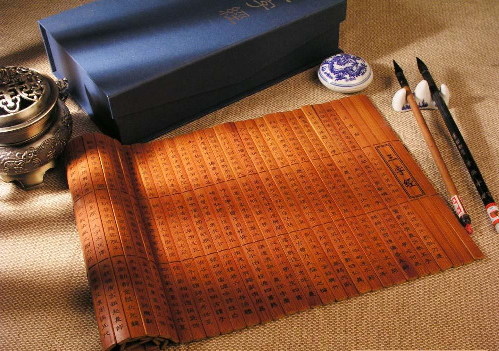 The history of Chinese people planting and using bamboo can be traced back 7,000 years. As early as the Shang Dynasty (16th-11th century B.C), bamboo was already used in various aspects of ancient Chinese people's daily lives. It was used for food, clothing, housing, transportation, music instruments and even weapons. Before the Eastern Han Dynasty (25-220) when paper was invented, strips of bamboo had been used as the most important writing medium more widely used other materials, such as silk, animal furs and rocks. China's first books were crafted from bamboo strips on string. Thus bamboo played an important part in the daily life of ancient Chinese people, and its role as a writing medium helped keep history records and traditional Chinese culture for us to study today.
In traditional Chinese culture, bamboo is a symbol of Oriental beauty. It represents the character of moral integrity, resistance, modesty and loyalty. It also stands as an example of loneliness and elegance, among others. This value becomes one of the major themes in Chinese painting, calligraphy and poetry. For thousands of years, generations of artists praised bamboo in the name of this spirit.
The Spirits of Bamboo Culture
Bamboo has the title of "gentleman" among other plants. As a symbol of virtue, bamboo is always closely related to people of positive spirits. Famous Tang Dynasty (618-907) poet Bai Juyi (772-846) summarized the merits of bamboo according to its characteristics: its deep root denotes resoluteness, straight stem represents honorability, its interior modesty and its clean exterior exemplifies chastity. Bamboo culture always plays a positive role in encouraging people to hold on when facing tough situations.
Stories of Bamboo Culture
Throughout history, bamboo has given inspiration to many artists. A large number of artistic works have been made with the theme of bamboo, including poems, paintings and music. There are lots of legends and stories derived from bamboo culture.
1. Mottled Bamboo (Bamboo of Imperial Concubines)
According to legend, during the reign of Emperor Shun (an emperor of the far ancient age of China more than 2,000 years ago), there are nine evil dragons on the Jiuyishan Mountain of Hunan province. Emperor Shun decided to help his people kill the evil dragon, because his people were suffering from the disasters brought by the evil dragons.