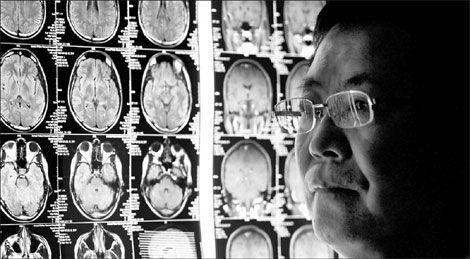 For Wang Ningli, vice-president of Beijing Tongren Hospital, the human eye is nature's most ingenious and sophisticated invention. Photos by Jiang Dong / China Daily
Dr Wang Ningli, head of the eye center at Beijing Tongren Hospital, approaches an impaired eye with the same devotion as a restorer approaches a work of art. Zhao Xu reports.
World-class scholarship enhanced by hard-gained clinical knowledge helped Wang Ningli gain the position of director at the internationally-renowned eye center of Beijing Tongren Hospital, back in 2002. However, to his surprise, it was a photograph that helped seal the deal. "I had it taken in my hometown - a typical northwestern Chinese city," Wang says. "It was in the mid-90s and I was on holiday leave from my postgraduate studies in Guangzhou."
Behind Wang, who's looking directly into the camera, rising fearless to meet the horizon, is the wind-swept yellow-earth plateau. The sun gleams faintly, casting deep shadows over the terraced terrain.
"The picture made an instant impression on the voting panel," recalls Wang, who is today the hospital's vice-president. "It speaks for who I am, as much as where I come from."
Wang was born in 1957 in Xining, the provincial capital of Qinghai.
"The city sits squarely in the bottom of a basin, so in whichever direction I looked, I saw the mountains," Wang says.
And, to the boy's fascination and frustration, the mountains were endless.
"I climbed over one mountain ridge, only to find another lying before me, separated by a valley," Wang says. "They were like multiple doors that opened before me until the sun set and mom's call for supper beckoned."
In retrospect, everything Wang had grown up with was imbued with symbolic meaning. But at 16, all he thought about was escaping.
Without the knowledge of his parents, he volunteered to work at a tiny rural village some 200 km from home.
It was in 1973 and the zeal for "re-educating" its young generation was still burning hot in China. The beanpole youth was to pour all his passion and energy into tilling the fields and tending cattle.
It lasted 19 months, with the tearful send-off by local farmers forever inscribed in Wang's mind. The following two years saw him becoming "a proud member of the proletarian class" who spent the day amid the whirring of machines.
All this ended abruptly in 1977, when China reintroduced its college entrance examination in the aftermath of the decade-long "cultural revolution" (1966-1976). Wang, a sensitive young man who was inclined to see himself in an artistic light, applied for study at the Central Academy of Arts and Design in Beijing.
But he quickly woke up from his artist's dream to find himself in a doctor's gown, as he was instead handed an enrollment letter from a medical college.
"I was hugely disappointed, but was compensated five years later when I was allowed to choose ophthalmology as my specialty," Wang says, musing over his losses and gains.
"The eye of a human being is nature's most ingenious and sophisticated invention. It's a work of art."
In 1987, Wang boarded the train for postgraduate study at Guangzhou's famed Sun Yat-sen University of Medical Sciences. "For the first time in life, I had left behind the mountains," he says.
The young man was less impressed by the benign winter of the southern metropolis than by its modernity.
"Imagine what I brought home during my first holiday?" he asks, bemused by his own choice. "Two giant bottles of Coke!"
"We sipped it from little wine cups, as if it were some rare vintage from a French cellar."
Wang has always maintained a secret shrine for enchanting memories. And he listened to his own heartbeats, more clearly than ever, while in the United States.
"In trying to become a professional I have, accidentally and perhaps inevitably, become a patriot," says Wang, referring to his three-year study at the Shiley Eye Center of University of California, between 1998 and 2000.
There, despite being a dedicated and popular student, Wang experienced what he calls "culture shocks".
"Once I presented my professor with a CD of classical Chinese music, which I believed he would enjoy," Wang recalls. "He glanced at it briefly, put it aside and said, 'With one dollar, you can buy a dozen fake CDs in China'."
"I thought my head was going to implode."
To this day, Wang is reeling from this reaction. The fact that this had come from a man he regarded as his mentor raised some fundamental questions for him.
"Questions included one's sense of belonging and its absence," Wang says. "I made the decision to come back and have not for a minute regretted it."
Return he did, but not quite in the way he'd imagined. After running a high fever continuously for a month and being tentatively diagnosed with thyroid cancer, he bought an air ticket back home.
"I recovered miraculously," he says. "It was not cancer, but an exceptional case of viral infection."
If anything, he learned first-hand what it's like to walk in the valley of despair.
Re-anchoring his life, Wang found himself knocking on the door of Beijing's Tongren Hospital, first opened in 1886, that remains one of China's firmest strongholds for eye disease diagnosis and treatment. Back in 2002, the hospital's newly established Eye Center needed a helmsman, and Wang felt his calling.
These days, the daily walk across the hospital's long corridor toward his office has become for him an emotional test, as he meets the gaze of numerous patients, laden with anguish.
Among them were Ruan Yanping and her husband. Their daughter, who was barely 7 months old when they first came to Wang in August 2010, had underdeveloped eyeballs, which severely restricted her vision. As a complication, the kid also suffered a cataract, which, if not treated on time, could have caused total blindness for life.
But the patient's tender age ruled out an operation. "We were turned down by too many hospitals and didn't even know whether it was worth trying any more," says the mother. "Then I called Dr Wang, and he said to me, 'Remember she's a little child? A child brightens up at the first kiss of sunshine'."
"I've since lived for that," she says.
The girl's cataract was removed before she turned 1. For Wang, that meant a window that was about to be flung shut was opened at the last minute.
"My baby had been crawling in darkness since she was born. Now, to see her reaching out for toys and looking at my eyes while whispering, 'Mom' - there's no word for that feeling," Ruan says.
"What separates a true artist from lesser artisans?" Wang says, waxing philosophical, "It depends on whether he works with a skilled hand alone, or with a passionate heart."
Wang approaches an impaired eye with the same care and reverence a painting restorer in the Louvre must show an original Renoir.
"A picture of the iris, as seen from the lens of a microscope, is the most beguilingly beautiful piece of abstract work I've ever seen," he says.
And like any man who regards his profession as a form of art, Wang is in constant pursuit of innovation. As China's leading expert on glaucoma research, he has for the past two decades been trying to expand on the existing knowledge of the disease, in the hope of finding an effective cure for the world's primary cause of irreversible sight loss.
A breakthrough came in early 2009 when Wang and his team came up with their "trans-lamina cribrosa pressure difference theory" on open-angle glaucoma.
"The common belief was that glaucoma is a direct result of an increased intraocular pressure, which lends itself to the back of an eye and damages the optic nerves connected to the brain," Wang explains. "However, as our recent study indicates, nearly 80 percent of open-angle glaucoma patients in China present normal intraocular pressure. That number was reported to be about 90 percent in Japan and 70 percent in Europe."
Previously, various assumptions had been raised in an attempt to solve the apparent contradiction. But none was convincing enough to win an international following.
According to Wang, lamina cribrosa, a mesh-like structure at the back of an eye, sustains pressure not from one, but two sides: intraocular pressure within the eyeball and intracranial pressure behind the eyeball. It's the difference between the two that really matters.
In other words, a low intracranial pressure may have the same effect as high intraocular pressure. "The reason that a lot of people with perfectly normal eye pressure still develop glaucoma is because their intracranial pressure is unusually low," Wang says.
However, since the measurement of intracranial pressure requires lumber puncture and thus can only be performed with a patient's consent, Wang and his team waited for two years before enough evidence was accumulated.
The research result was first published during the Association for Research in Vision and Ophthalmology Conference, held in Florida, US, in April 2009. The response was enthusiastic: within weeks, several major ophthalmology organizations carried Wang's findings in their academic journals, or gave it prominence on their websites. These included the American Association of Ophthalmology and the European Glaucoma Society.
Wang's American professor from the Shiley Eye Center was impressed, calling it "a milestone paper".
By venturing into uncharted territory, Wang, whom the Asia Pacific Academy of Ophthalmology has just honored with its coveted Achievement Awards for Year 2010, has put himself, and Chinese eye doctors, on the world map.
But there's always another mountain to climb. Every one or two years, Wang goes back to where he was born, sometimes on a charity trip. (He's done nearly 3,000 free operations for local farmers, sometimes on his own.)
"As a kid, I often looked out to the mountain north of the city," he says, his mind searching for that treasured frame. "There, on the top of it, against a grayish blue, was the darkened image of seven poplars."
Or, was it more? During one stay, he drove to the foot of the mountain and climbed all the way up to its rocky peak. There, he discovered hundreds more trees, down the slope on the other side.
"I scaled the mountain with a few trees in mind," says Wang. "What I got was a forest."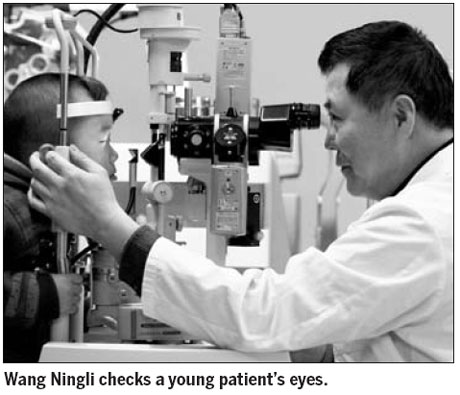 (China Daily 01/11/2011 page20)