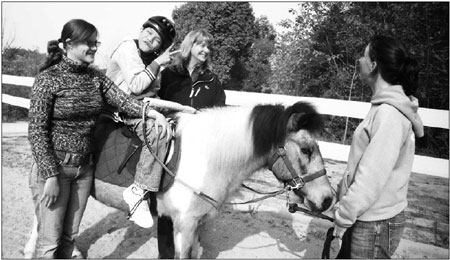 Guang Hao (on horseback), a 15-year-old Chengdu boy suffering from cerebral palsy, could barely stand before joining the riding therapy program. Photos by Chitralekha Basu / China Daily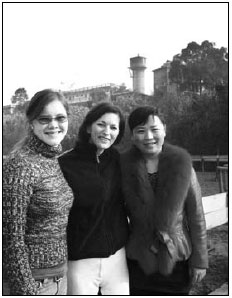 (From left to right) Hilary Bowen, Kathleen Weidler and Ren Siyan, who work with the riding therapy program in Chengdu that helps kids with cerebral palsy.
Kids with cerebral palsy and other disabilities are being helped by a riding therapy scheme in Chengdu. Chitralekha Basu reports.
Guang Hao flashes a victory sign and breaks into a wide grin, nuzzling his own shoulder to indicate he is deliriously happy. His rapport with Xiaoshue, the pony he is riding, is obvious. Guang does not look his biological age of 15 and walks like a toddler.
"When I first saw him, he was all hunched up and could barely stand on his own," says Kathleen Weidler, whose riding therapy program in Chengdu helped Guang find his feet.
"A kid affected by cerebral palsy has very tight muscles. The motion of the horse helps his body loosen up in a way he would never have experienced naturally," she says, positioning Guang's right leg carefully against the horse's flank.
She and her team of volunteers have been a part of Guang's amazing journey, from a brain-damaged child who could barely stand, to one who can now walk with a near-erect spine and respond with a smile when he is being talked to.
Weidler was always passionate about riding. She got into therapeutic riding during her stay in Singapore, before she arrived in China in 2007. The magic of riding a horse, "whose front legs mimic the motions made by human walking" can instill an idea of balance and symmetry in the movement of people with special needs, she says.
Weidler honed her skills as "a leader, side-walker and instructor" in Singapore.
Once she had settled down in Chengdu, this English teacher's enthusiasm for horses brought her to Hope Equestrian, in Tianfu Dadao, 17 km west of downtown.
Here she met Ren Siyan, who, with her husband Xiao Hong, co-owns the stable and riding area, which is primarily used to train horses for the pentathlon. When she suggested they start a riding therapy program, Ren was happy to offer the facility free of cost.
"It's the least we could do as this was for the benefit of our children, considering the expats were being so generous," Ren says. "In any case, it's just a shoestring operation with eight kids and a couple of horses."
Chengdu Riding Therapy Group, started by Weidler in March 2009, is only the second in China after Shanghai. The children come from Holy Love School, for kids with disabilities.
The volunteers - writers, professionals and students - come from Chengdu's energetic and close-knit expat community who help out a few morning hours twice every week. The funds, usually, come from their own pockets.
"The progress is so dramatic that it's obvious in less than two months," Weidler says. "Their backs straighten, the gross motor skills are activated."
Hilary Bowen, who has just graduated from high school, and has served as a volunteer since the program's inception, agrees.
"It's a joy to watch the progress of the children. We want them to be able to lead normal lives, after taking the course."
While Ren is looking for bilingual (Chinese/English) volunteers, Weidler would like to give the program a more world-class character.
She is seeking talks with North American Riding for the Handicapped Association (NARHA) in Denver, Colorado, about the possibility of certifying interested Chinese candidates as instructors.
"The test could be taken online, but one also needs to go through 25 mentoring hours under a NARHA instructor," Weidler says, hoping there can be a solution to bridge the physical distance. "Eventually, I hope there will be a more organized program, run by qualified Chinese instructors."
Ren has promised sustained support. "I definitely want to expand the program and invite more bi-lingual volunteers to be a part of this amazing experience. The transformation a kid goes through in every possible way is amazing," Ren says, referring to a child's bonding with the horse that can inspire him to try and connect with people.
"Most riding activities in China are geared toward competition," Weidler observes. "We have to find more people who love kids, horses and teaching and get more women involved. I would love to see it happen."
(China Daily 01/06/2011 page20)