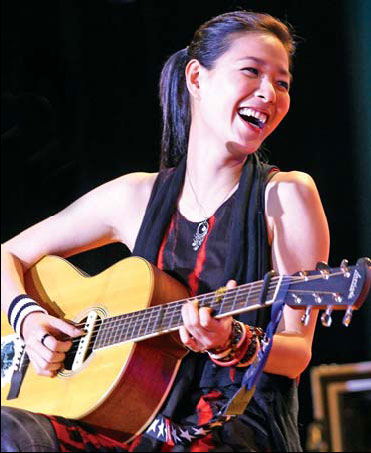 Taiwan singer-songwriter Zhang Xuan enjoys playing live.
 Zou Hong / China Daily
Taiwan singer-songwriter Zhang Xuan never fails to impress when she performs in the mainland, whatever the size of the show or promotional campaign.
Her latest performance at a Beijing university was no exception.
It marked the first leg of her university tour, Campus Life, organized by MTV China that will take her to 10 cities across the mainland in October.
All 1,000 seats were taken and the corridors packed even before she came on stage. The 30-year-old said just a few words of greeting to the audience before picking up her guitar and singing with her three-member band.
"I always like performing at campuses," she says backstage, after the one-hour performance. "You receive the most honest feedback; either they like you or they don't. This is good for a songwriter."
A leading alternative musician of the Chinese pop scene, Zhang started out with the now-defunct rock band, Mango Runs. She later turned solo and was active on Taipei's live music circuit, performing in coffee houses and pubs before releasing her 2006 debut album My Life Will ..., which won her the Best New Mandarin Artist title at the 7th Chinese Music Media Awards in Hong Kong, besides several other nominations.
By the time of her debut in Beijing with her second album, Darling, I am Not Sure, in 2007, she already had a huge fan base in the mainland. She appeared at Mao Livehouse, a popular downtown venue, singing to a select audience of 50, chosen from 4,000 applicants.
With a bottle of beer by her side, and an acoustic guitar in hand, the singer-songwriter showed off her charisma as a pub singer.
When she released her third album, City, in 2009, she was named best singer-songwriter from the Hong Kong and Taiwan region at the Beijing Pop Music Awards.
"While these awards and nominations have helped my music career greatly, they are not very significant to my music. I always think that music awards are more about telling you what is happening in the music industry, which has nothing to do with my music writing," she says.
"I don't make music for winning awards. As long as you like and enjoy the music you make, it's fine even if you don't get any awards."
Despite coming from a prominent Taiwanese family - her father is former secretary-general of the Straits Exchange Foundation - she makes no reference to her family connections.
A rebellious child, she dropped out of school at a young age, started composing when she was just 13 and had her first stage experience at 16. She received formal training in music and playing instruments when she was 19.
Influenced by musical icons of the 1970s and 80s, such as Pink Floyd, mainland rockers Cui Jian and Zhang Chu, Zhang says she prefers musicians and bands whose music is original.
"The music of those days is really cool. Every genre, from rock to folk, from jazz to experimental music, I love them all since I can hear the changing moods. The songs I write too express my feelings too," she says.
Unlike the music for mass consumption, such as that of Jolin Tsai, Zhang makes a special connection with her audience, through her lyrics.
Her first album is like a diary of her youth, conveying a message of independence and optimism, expressed in songs such as City and Beautiful Woman.
"What you write when you are 13 and when you are 30 are totally different," Zhang says.
Through her music, she tries to recreate the same feeling that writing a diary evokes - the happiness and sadness of everyday life.
With her increasing popularity, she has been invited to join many outdoor music festivals in the mainland such as the Strawberry Music Festival held in May and the Tanglewood Forest Music Festival held in August.
"I love singing at live shows because both my performance and the audience are different every time. The relaxed atmosphere is great too. I can drink beer on stage and even go bare foot," she giggles.